County partners to support solar group purchase
9/11/2019, 1:46 p.m.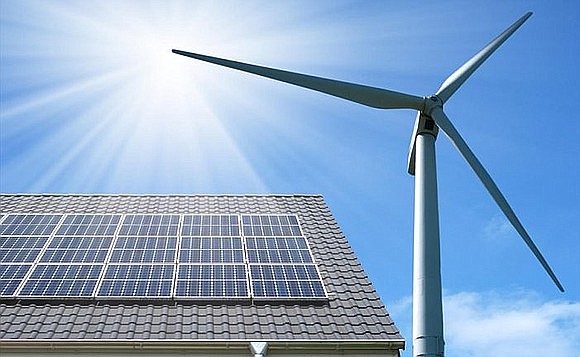 The Solarize Chicagoland group buy program surpassed its third goal when the 36th homeowner signed on to go solar.
Each benchmark achieved leads to a higher rebate to homeowners at the end of the program. These rebates are on top of the lower-than-market price offered through this program.
Since then the program has grown to include 46 properties, with more contracts being signed every week. Two of the 46 contracts that have been signed are from Will County.
Cook, DuPage, Kane and Will counties have partnered with the Midwest Renewable Energy Association and the Citizens Utility Board to support the bulk solar group purchase program for residents and businesses across all four counties. It is the first time a solar group buy is available to suburban Chicago residents.
The grassroots program combines volume purchasing with community education to make solar more accessible and affordable for area property owners.
Jerry Johnson of Plainfield was the first Will County resident to sign a contract in the Solarize Chicagoland Program.
"So far, it's been a really positive experience," said Johnson. "I think more people should definitely look into putting solar on their roofs. It is a good way to save money on your electricity bills, as well as decreasing your carbon footprint, which will all have an impact for the future."
So far, Johnson has referred four of his friends and neighbors to the program.
Solarize Chicagoland started Solar Power Hour informational sessions in late April. Will County Energy and Conservation Specialists Samantha Bluemer and Christina Snitko gave an explanation of the program, discussed the projected costs of installing solar and highlighted the benefits of going solar. A recorded webinar is available at www.SolarizeChicagoland.com for those interested in the program.
"We're trying to simplify the process of going solar," said Peter Murphy, Solar Program Director for MREA. "It can seem complicated, so we present clear information and answer folks' questions at our Solar Power Hours and then they can determine for themselves whether solar is right for them."
Solarize Chicagoland's advisory committee is comprised of sustainability staff from Cook, DuPage, Kane and Will counties. The committee reviewed proposals and selected a single installer to help carry out the program.
That gives participants the simplicity of a single installer and the confidence that the selection was made from a number of competitive choices. GRNE Solar was selected because of its diverse staff of certified solar installers and its longstanding experience and reputation in the state.
The discounts available through the Solarize Chicagoland program, combined with the current federal and state incentives and the likelihood of solar installation prices increasing in the future due to increasing demand, make this the ideal time to go solar.
Interested property owners have until Sept. 30 to decide whether to participate in the program.