World Premiere of Buddy Guy Documentary The Torch to close 55th Chicago Intl. Film Festival
9/18/2019, 10:24 p.m.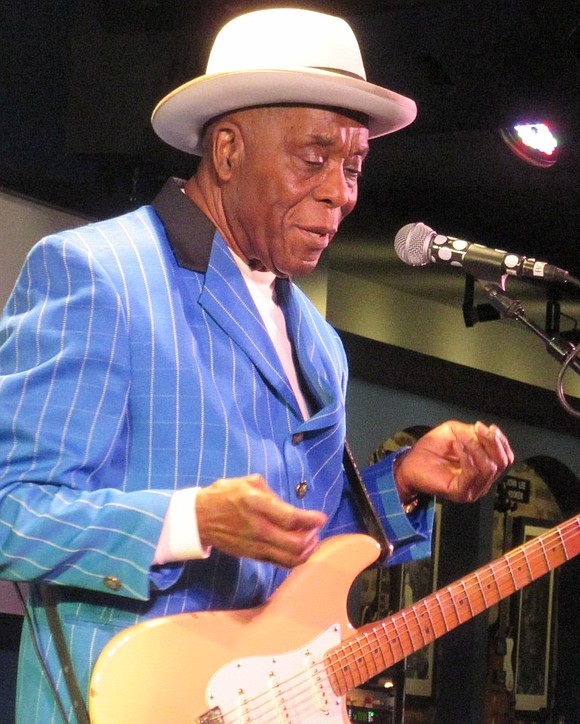 City & State Program
The First Rainbow Coalition – Dir. Ray Santisteban, U.S.
Chicago 1969: Activists from the Black Panthers, Young Lords, and Young Patriots united African Americans, Latinos, and poor whites to confront police brutality and unfair housing in one of America's most segregated cities. A timely story of collective action, The First Rainbow Coalition tells this little-known chronicle of political struggle with you-are-there intensity through archival footage and interviews with those who lived it. 56 min. With post-screening discussion.
Girl on the Third Floor – Director: Travis Stevens, U.S.
Home improvement can be horrible—but for Don (CM Punk), a tattooed dad-to-be fixing up his newly acquired turn-of-the-century Victorian, they can be downright gruesome. With his wife away, Don tries to clean up his own act and the decaying drywall, but the house has other plans. With a bounty of blood-splattering body-horror, Girl on the Third Floor is a supernatural skin-crawler about how things left to rot can come back to haunt you. 93 min.
Hala – Dir. Minhal Baig, U.S.
The film follows seventeen-year old Hala, played by Geraldine Viswanathan (Blockers), as she navigates her senior year of high school and starts to develop feelings for her classmate. Raised in a conservative Muslim Chicagoland household, her growing attraction is at odds with her traditional upbringing. At the same time, she finds herself grappling with the knowledge of a secret that threatens to unravel her family. 94 min.
Knives and Skin – Dir. Jennifer Reeder, U.S.
In this mystical Twin Peaks-ian teen noir, the disappearance of a high school student points to dark forces at work in a sleepy Illinois town. Although friends, neighbors, and family search for Carolyn Harper, the case remains unsolved. Unmoored and adrift, the rural community—from the mother of the missing girl to her fellow choir members—tries to soldier on. Surreal, sly, and shocking, Jennifer Reeder's coming-of-age tale has a fiercely feminist heart. 111 min.
The New Bauhaus - Dir. Alysa Nahmias, U.S.
When radical Hungarian artist László Moholy-Nagy moved to Chicago in 1937, he spearheaded "The New Bauhaus," a movement descended from the famous German school; Moholy-Nagy took a pioneering interdisciplinary mixed-media approach to art and design that was vastly ahead of its time. Featuring interviews with Moholy-Nagy's daughter and a range of experts, The New Bauhaus offers an illuminating portrait of the work of a visionary teacher and thinker. 89 min.
Once Upon a River - Dir. Haroula Rose, U.S.
After her father's violent death, Native American teenager Margo Crane flees down Michigan's Stark River in search of her estranged mother. On the way, she encounters allies, enemies, danger, and the beauty of nature, all while coming to grips with her past and her own identity. A Midwestern Gothic coming-of-age fable set along the riverbanks, Chicago musician-filmmaker Haroula Rose's debut feature is an evocative marriage of Winter's Bone and Huckleberry Finn. 90 min.
Present.Perfect. Wan mei xian zai shi – Dir. Shengze Zhu, U.S., Hong Kong
Live-streaming in China is a billion-dollar industry driven by everyday citizens hosting online shows and interacting with virtual audiences. Compiled from more than 800 hours of footage from marginalized streamers—a burn victim, a street dancer, a factory worker, and many others—Present.Perfect. crafts a revealing portrait of a community searching for human connection in a society that has left them behind. Mandarin with subtitles. 124 min.
Ringside – Dir. André Hörmann, Germany, U.S.
Call it Hoop Dreams for boxing. Like its famous predecessor, Ringside isn't just a story about two aspiring young Chicago black athletes as they experience the successes and setbacks of life and sport over several years. It also delivers an emotional gut-punch as it chronicles the travails of Destyne Butler Jr. and Kenneth Sims Jr., as well as the hardworking fathers who stand by their side through every victory and defeat. 95 min.
Closing Night Ticket Information
The Chicago International Film Festival Closing Night premiere of The Torch takes place at AMC River East 21 (322 E. Illinois) on Sunday, October 27, beginning at 6:00 p.m. with guest presentations, followed by the film presentation at 7:00 p.m. An After-Party with cocktails and hors d'oeuvres will follow at Steak 48, 615 N Wabash Ave, at 8:30 p.m. Film-only tickets start at $33 with VIP tickets (including film and after-party) at $75/ticket. Ticket and event information is available by calling (312) 332-3456 or at www.chicagofilmfestival.com http://www.chicagofilmfestival.com Tickets for Closing Night go on sale at noon on Thursday, September 23.