Micro Pantry benefits from picnic
9/24/2019, 4:14 p.m.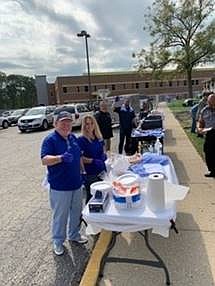 Dennis Dooley and his team at Elite Ambulance in Mokena had an idea. How about bringing their grills to the Will County Health Department's main building in Joliet for a picnic to benefit WCHD's Micro Pantry? And on Friday, September 20th, over 300 donated Micro Pantry items later, the mission was a success.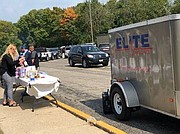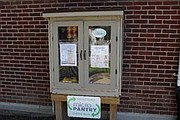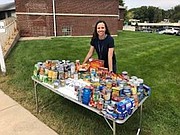 The Micro Pantry movement was begun by local businessman Jeff Eberhard, with a hunch that more people would accept from a food pantry, as well as donate to it, if they could do so anonymously. In the summer of 2018, the Health Department joined this "take what you need, leave what you can" movement by placing their own wooden pantry along their main building near the entrance to the Immunizations Clinic Dooley and his Elite Ambulance team arrived at the Health Department's main building at 501 Ella the morning of the 20th, and set up grills in the old building's east parking area. By 11:15 AM, Health Department and Community Health Center employees were arriving to exchange at least two non-perishable food items in exchange for hot dogs, polish, burgers, veggie burgers, and more. WCHD Executive Director Sue Olenek called the whole day a big success. "We are so thankful for the generosity of Elite Ambulance, one of our partners in the community. Dennis and his team provided the food free and charge, and we turned that into an opportunity to keep our Micro Pantry stocked for at least one month."
WCHD Program Coordinator Cindy Jackson agreed that the picnic was a success. "It was definitely a great day. Elite Ambulance staff were able to give back by providing Health Department employees with a delicious picnic lunch, and Health Department staff were able to donate food for the onsite Micro Pantry that directly benefits the community."
For more on Mirco Pantry locations around Will County and Northern Illinois, visit this link: https://willcountygis.maps.arcgis.com