Area hospitals brace for influx of patients with COVID-19
By Rex Robinson | 4/1/2020, 9:39 p.m.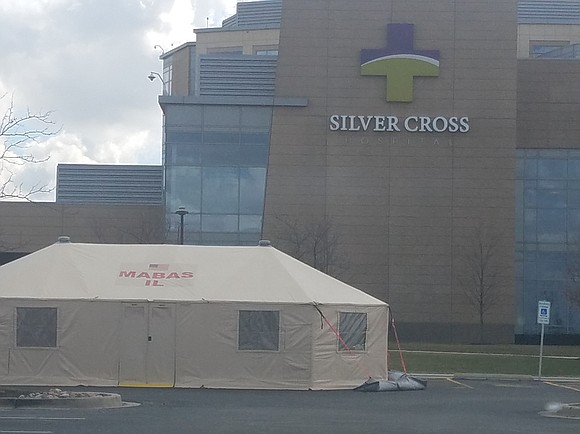 Hospitals in and around Joliet and beyond are preparing for an increase in patients as the Coronavirus continues to spread.
The Will County Health Department and Community Health Center on Wednesday put the total number of cases in the county at 323 cases, including 170 men and 153 women, and a total of nine deaths, according to department spokesman Steve Brandy.
Amita Health Saint Joseph Medical Center in Joliet reported having eight inmates from Stateville Correctional Center with COVID-19 on Sunday and 18 on Monday, Joliet Mayor Bob O'Dekirk said. On Tuesday that number dropped to 14, with two being sent to other hospitals and two others being sent back to Stateville. On Wednesday, the Illinois National Guard was in the process of setting up a medical facility at the prison to treat inmates with the Coronavirus.
"I was very concerned that the hospital would be overloaded with patients coming from Stateville and that this would affect their ability to provide care for Joliet residents in need," O'Dekirk said. Hospital officials, he added, were confident that the Governor's office was intervening and would help with their current situation.

"I do not think the hospital anticipated large groups of prisoners coming in from a maximum security prison, which also brought in large amounts of correctional workers to guard the patients," O'Dekirk said.
A spokesperson for Saint Joseph Medical Center could not be reached for comment before press time.
Silver Cross Hospital, the other major medical center just outside of Joliet in New Lenox, has been taking steps to handle the influx of patients with the Coronavirus. The hospital, as of Tuesday, was treating 24 inpatients who had tested positive for COVID-19, with another 44 inpatients classified as persons under investigation for COVID-19 (PUIs), bringing the total inpatient population of confirmed COVID-19 and PUI cases to 68, according to Debra Robbins, director of marketing and community relations for Silver Cross.
"The affected 68 patients remain hospitalized in isolation," Robbins said. "We're working closely with officials from the Will County Health Department, the Illinois Department of Public Health and the Centers for Disease Control, and are following their recommended guidelines and protocols. Along with the care of these patients, our top priority at Silver Cross Hospital remains patient and staff safety."
Silver Cross has seen an increase in the number of patients coming in with symptoms of the Coronavirus. "We have seen a rapid increase of patients day over day," Robbins said on Tuesday. "A week ago, we had six patients positive for COVID-19; today we have 24."  
When built in 2012, Silver Cross Hospital, according to Robbins, took "extraordinary measures to create two entire patient care units that could be converted to all negative pressure isolation rooms if necessary."
"These rooms are now available to COVID-19 patients or persons under investigation at Silver Cross," she said. "In addition, since the onset of the COVID-19 situation, our occupancy rate is lower since we have cancelled all elective surgeries and services. That has freed up a considerable amount of capacity, which we continue to monitor daily. If needed, we have the ability to create 70-plus negative pressure rooms."