National Guard sets up medical facility at Stateville
Medics to be on-hand to treat inmates with Coronavirus
By Rex Robinson | 4/1/2020, 9:29 p.m.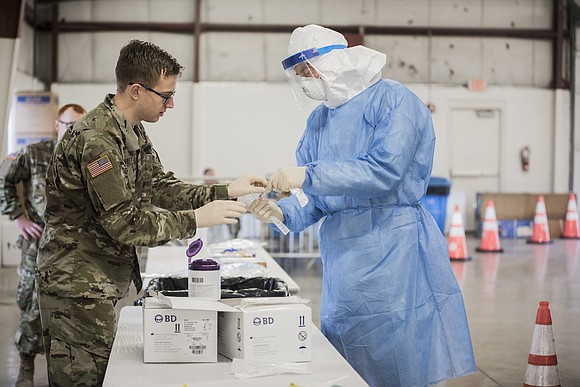 The Illinois National Guard on Wednesday set up a medical facility at Stateville Correctional Center in Crest Hill to treat inmates with the Coronavirus.
"At this point we have about 30 medics from the Illinois Army National Guard's 33rd Infantry Brigade Combat Team based in Urbana activated to support the Stateville Prison," Lieutenant Col. Brad Leighton, public affairs officer for the Illinois National Guard, said. "They are tasked with providing medical support to augment the medical capability at the prison and will be operational in the next couple days."
The medics are capable of medical support, but do not have the medical credentials of a doctor or nurse, according to Leighton. "This mission is still evolving," he said. "This request came to the Illinois National Guard through the state's emergency management process which follows the National Incident Management System."
The request came from the Illinois Department of Corrections through the Illinois Emergency Management Agency, which validates the request and identifies the best agency to fulfill that need, he added. It then came to the Illinois National Guard. "We are part of the whole-of-government team," Leighton said.
Over the weekend, a man incarcerated at the prison died from the Coronavirus, and 18 other inmates suspected to have the Coronavirus were then taken to AMITA Health Saint Joseph Medical Center in Joliet, officials said.
"It appears that some of the inmates were not immediately transferred," Mayor Bob O'Dekirk said Tuesday, adding that Saint Joseph Medical Center reported having eight inmates on Sunday and 18 on Monday.
As of noon on Tuesday, according to O'Dekirk, the hospital reported to him having 14 inmates, with two being sent to other hospitals and two others being sent back to Stateville.
"I was very concerned that St. Joseph Medical Center would be overloaded with patients coming from Stateville and that this would affect their ability to provide care for Joliet residents in need," O'Dekirk said. "St. Joes expressed confidence that the Governor's office was intervening and would help with their current situation. I do not think the hospital anticipated large groups of prisoners coming in from a maximum security prison, which also brought in large amounts of correctional workers to guard the patients."
All correctional facilities, Impact Incarceration Programs, and work camps are currently under Administrative Quarantine with no visits.
Also, Gov. Pritzker issued an executive order suspending all admissions to the Illinois Department of Corrections from all Illinois County jails, officials said. The Director of IDOC will work closely with county Sheriffs and other partners in the criminal justice system to discuss any potential exceptions that may be necessary, according to a statement on the Illinois Department of Corrections website.
The Illinois Department of Corrections, according to IDPH officials, is taking a number of steps to control the spread of COVID-19 in its correctional centers. Staff who work with individuals in isolation and quarantine, as well as in the health center, are wearing full personal protective equipment (PPE) and all staff are wearing some PPE, officials said.  Staff are also having their temperature checked daily as they enter the facility.