Fifteen Will County Health Department employees test positive for Coronavirus
4/2/2020, 11:11 p.m.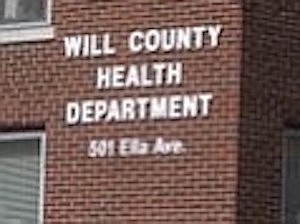 It was this past Monday, March 30th, that the Will County Health Department (WCHD) decided to close its doors and have most of their employees work from home.  The decision, according to officials, was made to protect both Will County residents and WCHD staff after one Health Department employee had tested positive for Coronavirus.
Since that decision, the results of other Coronavirus tests given to WCHD employees has led to a total of 15 testing positive, a clear indication that the move to have staff work remotely was the correct decision, officials said.
"After our first employee positive test, numerous other staff members were able to be tested at the drive through testing for first responders and health care workers at the Joliet Walmart and Chicago locations," WCHD Executive Director Sue Olenek explained.
"We are very glad so many were able to do this and that we also made the decision when we did to have our employees work remotely.  As Will County's public health home, we are out on the front line and we need to protect the public as well as our staff.  Fortunately, we had already taken action back on March 20th to lock our doors during business hours and have limited public access since we were very concerned, especially for walk-ins that came in with small children."
While the WCHD branches in Joliet, Monee, and Bolingbrook have closed their doors, there are two exceptions. The Will County Community Health Center in Joliet at 1106 Neal Ave., is continuing to see patients.  However, it is by appointment only.  The Bolingbrook CHC office at 323 Quadrangle Drive, Suite 335, is also seeing patients until further notice.
Will County residents who feel they need care at CHC but do not have appointments are asked to call ahead at (815) 727-8670. Please let staff know over the phone if you are coming to the Joliet or Bolingbrook location, and upon arrival you will be screened at the door.  If an appointment is deemed necessary, all efforts will be made to have you seen that day.
For essential WCHD services outside of the Community Health Center, residents can call the main WCHD line at (815) 727-8480.
The Will County Health Department has also been working through their Emergency Preparedness and Response Team, with help from Medical Reserve Corps volunteers, to assist with the delivery of masks, gloves, and gowns to various health partners around Will County, as well as supplies to the unsheltered homeless, and to those workers on the front lines.  WCHD has been working with the Will County EMA, the United Way, and the Lewis University Nursing Program in these donation efforts.
"While the 501 Ella Avenue building has been vacant, a cleaning and restoration company has been providing a deep cleaning to affected areas," Olenek explained.  "In addition, the branch offices in Monee and Bolingbrook will undergo a complete cleaning prior to staff and clients returning. 
"Our mission - to prevent disease and promote a healthier environment for all residents, business operators, and visitors - is our top priority," Olenek continued. "The WCHD is working with our CD (Communicable Disease) division and the IDPH (Illinois Department of Public Health) to determine the appropriate time to reopen our facilities to staff and the public."
The Will County Health Department has also activated a COVID-19 Hotline, which can be reached at 815-740-8977 for general information about Coronavirus.  New information and guidance are added daily, so please visit willcountyhealth.org, cdc.gov, and dph.illinois.gov.