Will County Coronavirus confirmed cases climb to more than 700
Number of deaths from COVID-19 in the county reaches 15
By Rex Robinson | 4/6/2020, 8:21 p.m.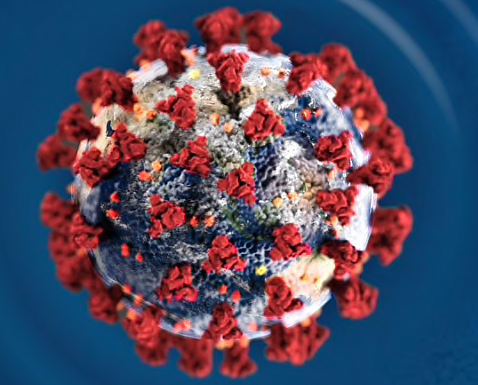 The total number of confirmed Coronavirus cases in Will County reached 703 on Monday, including 351 men and 352 women, according to Will County Health Department officials said. The number of deaths jumped from nine on Saturday to 22 on Monday, Will County Health Department spokesman Steve Brandy said. They included seven men with the youngest in his 40s and two in their 80s as well as two women in the 80s. The others included a man in 50s, another in his 60s and two other men in their 70s, Brandy added.
Coronavirus cases in Illinois also continue to rise. The Illinois Department of Pubic Health reported a total 12,262 cases on Monday, a rise from Sunday's total of 11,256. The number of deaths from COVID-19 statewide went from 274 on Sunday to 307 on Monday, according to the IDPH. Also, the number of people tested for the virus went from 58,983 on Sunday to 62,942 on Monday.
Meanwhile, as hospitals in the Joliet region - mainly AMITA Health Saint Joseph Medical Center in Joliet and Silver Cross Hospital in New Lenox - embrace for an influx of patients with COVID-19, Joliet city officials are preparing by reaching out to the owners of large facilities that can be turned into medical centers. These would be designed to treat mild to moderate cases and relieve some of the burden that could be placed on the hospitals.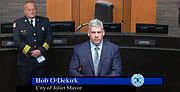 Two of these possible sites include Chicagoland Speedway and the now-shuttered Kmart store at 1801 West Jefferson, Mayor Bob O'Dekirk said during a press conference at City Hall on Friday morning.
O'Dekirk praised the work of the doctors and staff at the area hospitals."I think our whole community owes a debt of gratitude. ... Our local hospitals have stepped up and met the challenge," O'Dekirk said.
Many volunteers have stepped up to offer assistance. Some area residents with larger homes have offered to open up wings of their homes to house health care workers who have been treating patients with COVID-19 so they don't have to risk returning to their own homes and possible infecting family members, O'Dekirk said.
In terms of city services, the mayor said police, fire, water departments and other essential departments are continuing operations during the crisis. "There has been no disruption in city services and they're all operation as they should be."
O'Dekirk also gave an update on Stateville Correctional Center, which had recently sent a number of inmates who with the Coronavirus to Saint Joseph Medical Center for treatment. The National Guard, he said, is nearly done setting up a medical facility at the prison and the process of sending inmates with COVID-19 would soon come to an end.
Meanwhile, two drive-through testing locations for first responders and health care workers only, operated privately and not by the WCHD, have been set up in Will County. A Joliet location is in the Walmart parking lot at 2424 West Jefferson Street. A Bolingbrook location is in the Walgreens parking lot at 695 W Boughton Road. These stations are scheduled to operate 10 a.m. to 4 p.m. daily or until the testing stations reach capacity. First responders are defined as "any individual responding to the public health task or mission, as determined by jurisdiction."