Silver Cross Hospital's first COVID-positive patient discharged
4/29/2020, 8:46 p.m.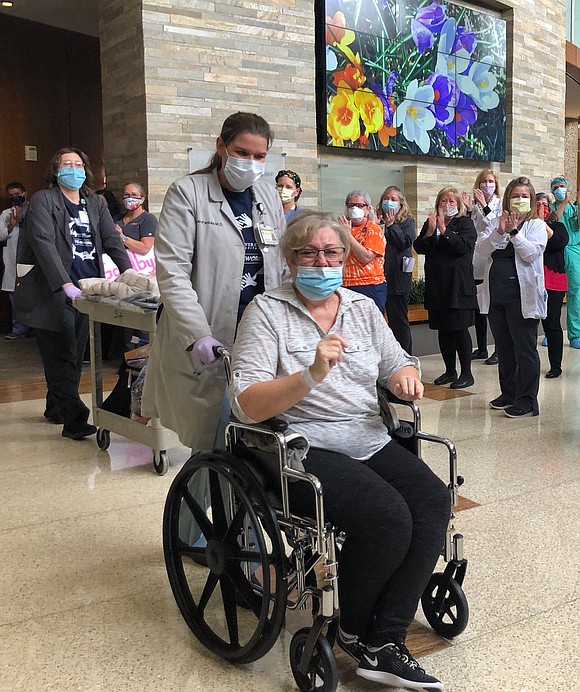 Kee said the teamwork within her unit and across several hospital departments has been an inspiration to her. "I couldn't get through this without my coworkers. And Halina's story is just so uplifting for all of us."
Respiratory therapist Nicole Sain agreed. Sain cared for Zabinski during her initial stay in the ICU to ensure she was properly ventilated and sedated. "The ventilator takes over a patient's breathing so the body can recover," she explained. "I saw Halina at the very beginning, and she required 100 percent oxygen, as high as you can go."
Slowly, her oxygen levels improved enough that it was time to see if Halina could breathe without the help of the ventilator.
"It was very emotional," Sain recalled. "The fear was that she might not be able to maintain her airway because of the length of time she had to be ventilated."
Dr. McDonough delivered the news to Zabinski's family that there was a 50-50 chance she might have to be put back on the ventilator if the trial extubation failed. But thanks to the excellent care she received throughout her stay, Zabinski held her own when she was taken off the ventilator. And 24 hours later, her entire care team breathed a sigh of relief when she continued to improve.
Eventually, Zabinski was stable enough to be transferred to the hospital's 6th floor before making a final stop in the inpatient rehabilitation unit for strengthening before being discharged to home. Physical, occupational and speech therapists play a major role in helping patients like Zabinski recover from COVID-19 by helping them regain the strength to walk, communicate clearly (especially after being on a ventilator) and take care of everyday activities like showering.
"I was born again on the day they took me off the ventilator," Zabinski said. "And I'm so grateful to be leaving through the front door…and not the back door."
Zabinski's memorable hospital discharge was arranged by Andi O'Neill, ICU social worker. O'Neill was a vital intermediary between Zabinski and her family during her stay in the ICU.
"We were all rooting for Halina and wanted to say good-bye," she said. "We started this journey with a lot of uncertainty, but it's had a very happy ending!"
Zabinski's unforgettable sendoff was captured on video and posted to the hospital's Facebook page, where it received thousands of likes, shares and comments.
"On behalf of my mother, I would just like to thank all the doctors, nurses and the rest of healthcare workers who helped save her life," wrote Zabinski's daughter Katie. "Without this amazing team, I am sure we would not have her in our lives today. You are all heroes and we are extremely thankful for the work you do. Thank you for constantly keeping my dad and I updated about her condition along the way. She is extremely grateful to be home, thank you for helping her beat COVID!"
Zabinski added, "That's why I wanted to share my story so people can see that even someone with a less than 1 percent chance of survival is going home."
For more information, visit www.silvercross.org