District 365U students will start the school year learning from home
By Rex Robinsn | 8/11/2020, 11:49 a.m.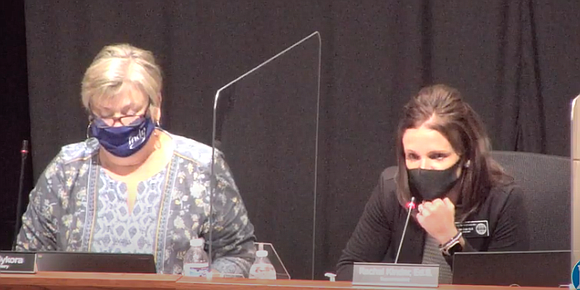 Students from another large school district in Will County will be starting the new school year learning remotely from home.
The Valley View School District 365U Board of Education on Thursday voted 5-2 in favor of a full remote learning start for all students this fall.
District 365U joins a number of other districts in Will County that have also shifted to a full remote start to the new school year. Last month, District 365U Supt. Rachel Kinder proposed a hybrid plan where students would spend part of each week learning in the classroom and the rest learning remotely from home.
That all changed as both the number of Coronavirus cases and the positivity rate in Will County started to edge back up and a number of the district's staff discovered they or a family member had tested positive for the virus. The latter resulted in a strong possibility of the district starting off the school year without enough staff to educate the students. All the above has happened since July 20 when Kinder first proposed the hybrid re-opening plan to the board.
"The reality is a great deal has changed in the last 16 days," she said. "What we're seeing and hearing does not paint a great picture that we are moving in the right direction."
She stressed that she and other district leaders will continue to assess the situation and as soon as possible move to bring the students back into the classrooms if the situation improves. The plan for now, however, is to move to the hybrid model as initially proposed in the second quarter, according to Kinder.
District 365U's plan is to slowly move in stages to a hybrid learning model as the COVID situation improves.
District 365U's plan is to slowly move in stages to a hybrid learning model as the COVID situation improves.
She said the remote learning plan for the fall will be much improved from the spring when all the schools had to scramble to put a plan in place. The remote learning for the fall will be more structured with regular attendance being taken and more learning time with the teachers, she said.
Also, Kider added, there will be plenty of technical support and educators from all the buildings will be doing assessments to ensure all parents and students are prepared for remote learning at home.
Board members Sally Guilbo and James Boudouris both voted against the full remote learning start to the school year.
Guilbo said the Centers for Disease Control is saying they want kids back in school and the best educations for the students is to have them in school. Guilbo disagreed with the plan as it would take too long for the students to be back in the schools.
"I have a lot of faith in our district. We have to figure this out and I believe it has to be sooner rather than later," she said.
Boudouris favored the hybrid plan as better way to start the school year. "I am not against remote learning as an option. I am against remote learning as the only option," he said.
Board President Steven Quigley said this is a pandemic like nothing we have ever seen before and there just enough time to be ready to bring all the students back into the school safely by Aug. 26. Quigley added he even spoke to his son who will be a senior in the district this year.
"He said, 'Dad, I want to do what's least disruptive,' " Quigley recalled.
Joliet Township High School District 204 officials also has opted for full remote learning in the fall due to concerns over rising Coronavirus cases. "At Joliet Township High School, above all, the safety of our students and staff will always come first. The last week, and this weekend, were extremely difficult for me as I watched the number of COVID-19 cases consistently rise in our region," Dr. Karla Guseman wrote in a letter to district parents.
In additon, two other large school districts in Will County - Plainfield School District 202 and Joliet Public Schools District 86 - recently announced plans to begin the school year with remote learning.
District 202 will start the 2020-21 school year with remote learning on Aug. 31, but could return to in-person learning later this fall if COVID-19 conditions allow, under a proposal approved last month.
The District 202 Board of Education voted 4-2 to approve a slightly amended version of the administration's "Return '20" proposed plan to reopen schools this fall with remote learning.