After The Peanut and Illinicare help Fairmont students
8/12/2020, 11:10 p.m.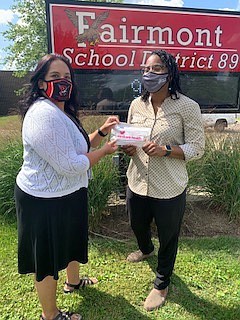 After the Peanut donated more than 250 pencil pouches loaded with school supplies to Fairmont School District 89 because of its partnership with Illinicare Health. After the Peanut has been a part of the Fairmont community for more than three years.
Through in-kind donations from Illinicare Health, After the Peanut was able to help students who are experiencing an unprecedented time in education due to the Coronavirus pandemic. The supplies will help them no matter where learning is taking place, Natalie Coleman, the CEO of After the Peanut, said. Coleman said her goal is to transform her company to meet the needs of learners during the virtual/online learning time period, which could last into 2021.
"Having an extensive background in K-12 education, I know how important it is to provide equitable resources and opportunities for underserved students," Coleman said.
After The Peanut was started in 2014 and opened a STEM Center in 2018, the company focuses on the power of knowledge and education in the face of adversity and challenges. Their goal is to transform communities by increasing opportunities in STEM. For more information, visit www.afterthepeanut.com.