New Will County Health department building open for service
8/19/2020, 6:40 p.m.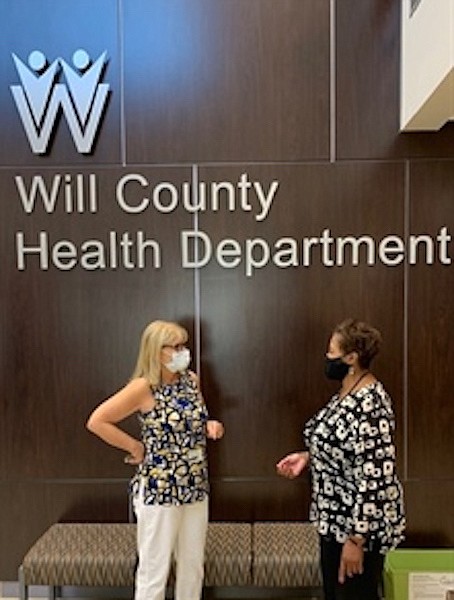 Will County's new two-story Health Department building has just opened on the Public Health Complex at 501 Ella Avenue in Joliet.
County Executive Denise Winfrey recently toured the new 73,000-square-foot building with the health department's Executive Director Sue Olenek.
"This building has been a long time coming," Winfrey said. "Our health department has offered superior service for many years. This new building will provide a quality workspace for our employees and allow them to continue these services well into the future as our population is anticipated to top one million very soon."
Construction of new $25 million health department building began in late 2018. The health department had outgrown the old building, which was originally built as a TB sanitarium nearly 100 years ago in the 1920s. The health department moved into it in the '60s, but upkeep just become more and more challenging, according to health department spokesman Steve Brandy.
The next step will be to build a new parking lot. The new facility was constructed in what was the parking lot for the old building.
The new building, according to health department officials, offers important services such as the WIC program, immunizations, environmental services, behavioral health, and family health. Contact tracing related to the COVID-19 pandemic is a new responsibility of the health department and has its own designated area to complete this important work. Each department has ample space for employees to serve the residents in a professional and courteous manner. The health department was previously housed in the TB sanatorium building that was built in 1920 and had far surpassed its useful life.
"The staff worked very hard to maintain quality public health services to the residents and business owners for many years in challenging conditions," Olenek said. "We are very proud of this building that gives us the space and equipment to continue our successful programs."
Annually, the health department administers more than 6,000 vaccines to 3,600-plus clients. The Food Facilities Program issues more than 10,000 food service permits each year and nearly 7,000 residents receive monthly benefits from the WIC program. The department also operates locations in Monee and Bolingbrook to bring these services to other parts of the county. Currently, the staff has modified the delivery methods of these and other important services due to the COVID-19 pandemic.
"We are fortunate to have this state of the art facility and the wonderful, talented staff for our health department," Winfrey said. "A healthy county is a prosperous county."
Plans to host an official grand opening are on hold due to the current public health crisis. For information about the health department and its services, visit the website: https://willcountyhealth.org/