Steve McQueen's Red, White and Blue third in his Small Axe series on primevideo.com
True story of black police recruit battling London's violent racism airs Friday Dec. 4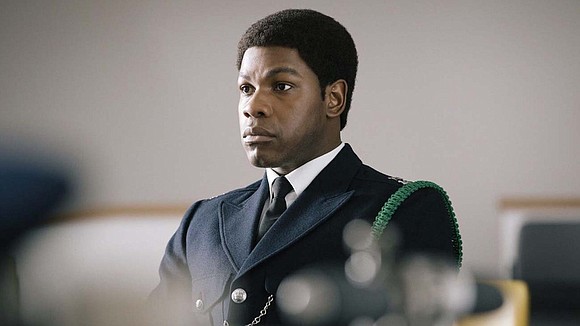 True story of one of London's first black police officers resonates with today's Black Lives Matter
Oscar-winning director Steve McQueen hits a deep nerve in the black community with Red, White and Blue, the third installment of his Small Axe anthology series premiering on Amazon Prime Video. Friday, Dec. 4 marks the start of this compelling TV drama on primevideo.com.
John Boyega stars as the real life Leroy Logan, who becomes one of the first black recruits to become a uniformed officer in London's black West Indian community. Boyega, best know for his recent turns in Disney's latest iterations of the Star Wars saga, is a quiet, but powerful force in this demanding role. (There's even a tongue-in-cheek reference in the McQueen film. I won't ruin it for you). It's a pleasure to watch him stretch his considerable artistic wings. Boyega, in fact, recalls a young Denzel, exuding as much emotion in silence as in discourse.
Logan is a chemist with a PhD working in the police crime lab when a white friend at the local track invites him to join Scotland Yard's newly inaugurated program to recruit more black officers. Logan reluctantly agrees, but secretly, he's been harboring a desire to be a police officer since childhood. It's his beloved aunt who is a retired community liaison officer, who encourages him to pursue his dream. "When I think of you sitting behind a desk alone (in the forensics lab), you want to express yourself. Your talent does not lie behind closed doors. You should be a benefit to the community. I see you've wanted to be a policeman since you were a child. Your life is yours, not anyone else's (referring to his father's wish that he become a research chemist.) The decisive moment comes when he sees his father lying bruised and beaten in the emergency room at the hands of racist police. It seems he attracted their ire when he stopped for lunch and parked in an illegal zone while driving a big rig truck. For such a licensed truck operator to be black was a rarity in race and caste-conscious London, sure to draw ire from the authorities.
His father's beating is the last straw and Logan begins his tortuous journey to a uniform and badge. Judged a traitor by members of his community, he is both praised by his superiors and vilified by his fellow white officers. Logan's journey is a gauntlet of conflicting emotions and experiences recounted with expert pacing in this taught drama penned by the director and Courttia Newland. For more, visit primevideo.com.