58th New York Film Festival in the rear view mirror: Meeting The Man: James Baldwin in Paris
A raging voice against racial prejudice rings across decades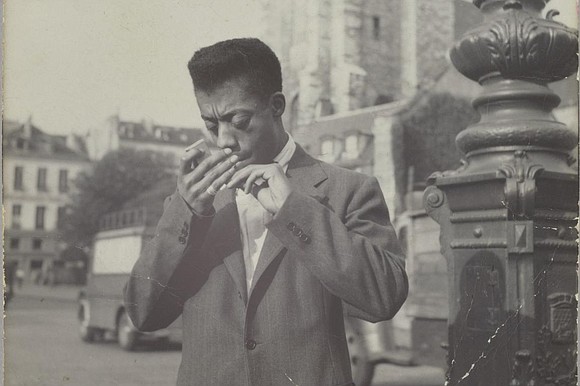 Looking back upon the 58th New York Film Festival (September 17-October 11,2020), one of the most thought-provoking films was British documentarian Terence Dixon's portrait of James Baldwin, Meeting the Man: James Baldwin in Paris. The film is only 27 minutes long, but it packs a wallop.
Filmed in 1970 in Paris, a city much beloved and maligned by the famed author, it traverses a seething emotional landscape that erupts from the moment cameraman Jack Hazan rolls film.
Self-exiled from the United States in 1948, Baldwin recalled the day of his expatriation. "November 11, 1948," he reminisced. " It was a matter of life and death. I had to be in a desperate situation to come so far. I got from one day to the next for four years.
Baldwin said that it was in the Algerian Quarter that he felt most comfortable, so he took up residence there. "The Algerians are the niggers of France."
In spite of his trepidation, he managed to hang on. "I wondered how I survived. I came to Paris on a one-way ticket with just 40 dollars in my pocket.
But who would I call for help?" he asked rhetorically. "All they would say back home is, 'Jimmy's in trouble!' No one really could help. They were facing their own desperate situation."
Baldwin had always had a love-hate relationship with Paris. It is the city to which he fled to escape racism in the United States. It is also where, in spite of frequent spates of piqué and protracted absences, the one to which he most often returned; 22 years, in all.
Paris is also the setting for his earliest literary successes, Giovanni's Room (1956), and the birthplace of his other literary achievements, Notes of a Native Son (1955), and his first full novel, Go Tell It On The Mountain (1953).
Baldwin lived in a series of cheap hotels, was also boarded for a time by an old woman who nursed him back to health in a five-story walkup in the Saint-Germain, and later worked at the Café' de Flore, where he met the likes of Simone de Beauvoir, Albert Camus and Jean-Paul Sartre, the guiding literary lights of Post-War Bohemian Paris. As Victor Hugo would say, 'it was the best of times. It was the worst of times."
As director Dixon pressed Baldwin for more specifics, Baldwin became increasingly petulant and defensive.
"I'm one of the very few dark people in the world who has a voice," Baldwin proclaimed defiantly.
"Yet, I'm not at all who you think I am. I'm much too proud to speak for my work. My work speaks for itself. I am a Black man in society and I speak to that! I speak for Bobby Seale. I speak for Angela Davis. I speak for Medgar Evers.
"You ask yourself, 'who is this 'Dark Stranger?!'
To you, I am that 'Exotic Survivor.'
Yet, I have known boys who look like him (referring to his handsome, light-skinned and fashionably dressed companion Carl) all my life, and half of them are dead."

When Dixon asked Baldwin why he chose the Bastille as the location for the interview, Baldwin gave full vent to his rage. Thus Dixon in Baldwin's mind morphed from filmmaker to Baldwin's mythical nemesis, 'The Man.'
"I'm trying to tear a prison down. That event has yet to occur. When a White Man tears a prison down, he is seen as a Liberator. When a Black man tears down a prison, he is turned into a Savage.
"You, for me, are my prison. My warden," Baldwin intoned ominously at the filmmaker turned unwitting and unwilling foil.
"You asked me why I wanted to come to Le Bastille. I came because it's a symbol. "
Later, in the Paris salon of artist Beauford Delaney (1901-1979), a fellow Black expat and close friend of Baldwin's, he encounters a group of young African American students, budding artists out to capture the Black Parisian experience for themselves. The author suddenly becomes more paternal and offers them advice.
When asked why he would never return to America, he opines, "I wouldn't want to live amongst all of those lies.
Regarding his own singular view of himself as an influential author, "It's what I like to call a 'Division of Labor.' I could never found a Movement, but I can certainly fuck up your mind!" That self-deprecating barb draws a hearty laugh from the young group.
In spite of all of Baldwin's bitter musings in the film, he does offer a ray of hope in the end.
"Love has never been a popular movement. The world is held together by the love and passion of a very few people."
Baldwin continues in that vein. "I refuse to despair. I know there IS despair, yet I continue to write.
"A desperate man doesn't write. I believe that if you live under the Shadow of Death, it gives you a certain Freedom. Therefore, I'm completely happy and relatively free."