Will County Health Department reports 464 new COVID cases
Health officials continue to await FDA vaccine approval
By Rex Robinson | 12/10/2020, 6 a.m.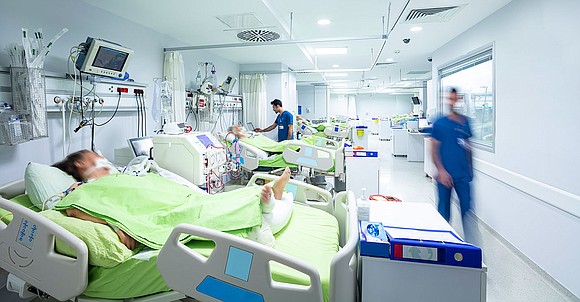 As the country awaits the release of COVID vaccine distribution to get underway, Coronavirus cases continue to rise. The Will County Health Department on Wednesday reported 44,464 COVID cases, an increase of 464 from Tuesday, and seven additional deaths, bringing that total to 601.
Health officials in Will County, like the rest of the country, are preparing for distribution of a COVID-19 vaccine when it becomes available in the region.
Silver Cross Hospital in New Lenox currently has a multidisciplinary committee looking at how to distribute the vaccine once it is received. The committee consists of experts from pharmacy, infection control, medical staff and nursing.
"We are following guidelines from the Centers for Disease Control and Prevention and the Advisory Committee on Immunization Practices," Debra Robbins, the hospital's director of marketing and community relations, said. "This includes a phased approach to distributing the vaccine in whatever quantity we receive, which initially is expected to be in limited supply and for healthcare workers."
Silver Cross has ordered and is awaiting delivery of an ultra-cold refrigerator to store the vaccines once the vaccines are received due to specific refrigeration requirements. "We should know more in the coming days and weeks," Robbins said.
The U.S. Food and Drug Administration on Tuesday posted online background material for this week's upcoming Vaccines and Related Biological Products Advisory Committee (VRBPAC) public meeting. The VRBPAC will meet in open session on Thursday to discuss Emergency Use Authorization (EUA) of the Pfizer-BioNTech COVID-19 Vaccine for the prevention of COVID-19 in individuals 16 years of age and older, according to a statement issued by the FDA.
The Pfizer vaccine recorded a 95 percent effective rate across 43,000 trial participants, according to the Illinois Department of Public Health and Gov. J.B. Pritzker's office. The IDPH confirmed the FDA will consider the vaccine on Thursday. It requires two doses administered three weeks apart and must be stored at minus 70 degrees Celsius in a specialized freezer that shouldn't be opened more than twice per day and only for about a minute at a time. Once thawed, it can be kept at a more typical refrigeration temperature for five days.
The Moderna vaccine recorded a 94 percent effectiveness across 30,000 trial participants. The FDA will consider the vaccine on Dec. 17. It requires two doses administered four weeks apart. It requires storage in a standard freezer temperature for up to six months, can be refrigerated for 30 days, and left at room temperature for up to 12 hours.
The CDC's Advisory Committee on Immunization Practices (ACIP) — an esteemed group of public health experts and medical professionals — develops recommendations on how to use vaccines to control disease in the United States. The Committee's recommendations are then approved by the Centers for Disease Control (CDC).
All 11 COVID Regions of Illinois, have moved to Tier 3 mitigations, according to Illinois Department of Public Health officials. Also on Sunday, the IDPH reported 39 out of 162 available ICU beds in Region 7, which includes Will and Kankakee counties, and 83 out of 137 available ventilators.
The test positivity seven-day rolling average in Will County for the week of Nov. 30 was at 10.03 percent, according to the Will County Health Department. Available ICU beds within Region 7 (Will and Kankakee counties) also are shrinking fast to 30 out of 162 as of Nov. 21, and 57 out of 137 total ventilators are available. More information about available hospital ICU beds and ventilators in Region 7 is available at https://www.dph.illinois.gov/covid19/hospitalization-utilization.
Joliet continued to have the highest number of cases in the county for the week of Nov. 30, with a total of 853 cases, according to the Will County Health Department. Plainfield had the second highest number of cases for the same week with 559.
AMITA Health Saint Joseph Medical Center in Joliet reported for 65 COID-19 positive inpatients on Tuesday and 18 persons under investigation (PUIs), according to AMITA Health System Director of Communications and Media Relations Timothy Nelson.
Silver Cross Hospital reported a total of 94 COVID patients on Tuesday; 87 were COVID positive and seven were patients under investigation awaiting test results. Ten patients were in the hospital's Intensive Care Unit and another eight were on ventilators.
Statewide, the IDPH on Wednesday reported 812,430 COVID cases, an increase of 8,256 from Tuesday and 13,666 reported deaths from the virus, an increase of 179 from Tuesday.
Pritzker and the Illinois Department of Public Health recently announced additional COVID-19 mitigation efforts for Region 7 (Will and Kankakee counties), Region 5 (Southern Illinois) and Region 8 (Kane and DuPage counties). These regions have continued to see rising positivity rates that far exceed the threshold set for establishing additional mitigation measures under the state's Restore Illinois Resurgence Plan.
Region 5 has been under Tier 1 of the state's resurgence mitigation plan since Oct. 22 and Regions 7 and 8 since Oct. 23, after seeing a seven-day rolling average test positivity rate of 8 percent or above for three consecutive days. However, the positivity rate has continued to significantly increase in these regions. All 11 regions are now at Tier 3 and are thus under additional mitigations, such as a tighter gathering cap of 10 individuals rather than 25 and new table caps of six rather than 10 when eating out.