Gold dropped in Salvation Army Red Kettle in Plainfield
Donation will benefit The Salvation Army Joliet Corps Community Center
12/15/2020, 1:46 p.m.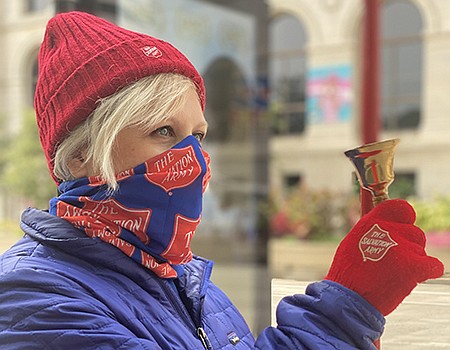 In a year of unprecedented need, The Salvation Army Metropolitan Division is grateful to receive a gold coin in a Red Kettle in Plainfield.
A 1/10 ounce $5 American Gold Eagle coin was dropped into a kettle outside the Jewel-Osco at 2480 Rte. 59 in Plainfield on Tuesday, December 8. The Salvation Army Joliet Corps Community Center will receive this donation, worth an estimated $250.
"I thought I saw someone put something in the kettle in a clear plastic sleeve, but I wasn't really sure," said Salvation Army Joliet Corps bell ringer Charles Jackson. "I've been a bell ringer for more than 10 Christmases, and this is my first gold coin! I'm very thankful for that generous person who gave this wonderful gift to help others."
"A $250 donation will help ensure seven children in our community receive Christmas gifts this year," said Envoy Scott Hurula, Corps Administrator for The Salvation Army Joliet Corps. "By dropping one coin in our kettle, a generous individual is providing hope to families in need."
The Salvation Army's Red Kettle campaign dates back to 1891 in San Francisco. Gold and silver coins donated to The Salvation Army Red Kettles have become a much-anticipated holiday tradition of giving throughout Chicagoland.
While the kettles have only been out since November 9, The Salvation Army launched the Rescue Christmas campaign nearly two months early in 2020 to meet the significant increase in need. Some Salvation Army locations in Chicagoland have seen as much as a fivefold increase in requests for food and emergency assistance since the start of the pandemic.
For more information on The Salvation Army's Rescue Christmas campaign, please visit www.salarmychristmas.org.