Plainfield considers age-restricted housing proposal
Madhu Mayer | 12/17/2020, 6 a.m.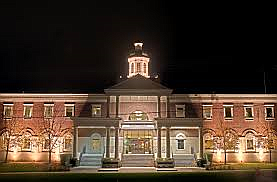 A new option could soon be available for empty nesters looking to downsize and remain in Will County.
The Plainfield Village Board at Monday's committee of the whole workshop discussed a concept plan for the Pavillion, which would convert 65 acres of vacant land at the southwest corner of Route 59 and Renwick Road into an age-restricted development open to those 55 and older.
Jessica Gal, associate planner for the village, said the proposed development incorporates a mix of housing options for aging residents that include single-family homes, duplexes and four-plex homes. The development would also include a clubhouse, along with a future commercial development planned along Route 59 that would bring together residential units located within walking distance. A senior living campus is proposed south of the commercial node, according to Gal.
"The future residents would provide a big boost in spending potential for the downtown area," Gall said, adding that the site is near Lockport Street.
"The age-restricted housing would provide a much-needed housing option, including current village residents who would like to remain in their communities and close to their families."
Village trustee Cally Larson agreed the project is much needed in Plainfield.
"But I am hesitant and nervous to see this is a lease-by-choice community," Larson said. "We do need a product for 55-plus (residents). But I don't know how affordable this product is." Larson also urged the developers to provide two-car garages in the project. "Our 55-plus market is a two-vehicle household," she added.
Trustee Margie Bonuchi agreed with the merits of the concept plan. "I do think there is a market for this type of rental," Bonuchi said. "It is in a good location."
But Bonuchi and Trustee Brian Wojowski both asked what would happen if the developers cannot lease out the homes. They said they don't want to see the developer come before the board later and ask to remove the age-restricted provision from the planned unit development and allow anyone to lease it.
Bianca Ruiz of Shorewood said she is glad to see village officials open to the proposed age-restricted development.
"As we get older, we need places like this where we can downsize without having to leave the area we love," Ruiz said. "I like the fact this is in a bustling spot so we don't miss out on what is happening in the community."