Steve McQueen's Education the quiet, yet powerful final act to his Small Axe series
Education premieres Friday, Dec. 18 on Amazon Prime Video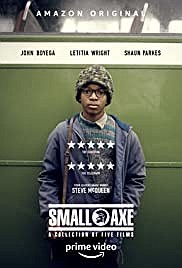 Education is the fifth and final installment of Steve McQueen's Small Axe anthology premiering on Amazon prime video Friday, Dec. 18. Visit primevideo.com for more details.
Education follows the travails of 12-year-old Kingsley Smith (newcomer Kenyah Sandy-The Lion King on stage-London's West End) as 12-year-old Kingsley Smith as he takes his lumps from cruel teachers and racist school administrators in 1970s London. Kingsley is a precocious and inquisitive kid who is much more interested in the planets than the dreary confines of his middle school. Bespectacled and introverted, he is also a slow reader, making him an easy target to be picked on by fellow students and teacher alike.
An overbearing teacher, Mr. Hamley (Nigel Boyle (Line of Duty 2012) throws him out on his ear for making an obscene wisecrack during band practice.
After a white classmate, Joseph (Ryan Masher-My Name is Lenny-2017, TV's Genius, also 2017) race-baits him into a classroom brawl, he gets booted out of school by the headmaster, a disgruntled Mr. Evans (Adrian Rawlins-Harry Potter sequels in 2011 and 2005).
He then gets bussed off straightaway to Durrant, a school for 'special' students, which a confidential government report reveals as code for schools that are designated for the 'educationally subnormal.'
It's all a thinly veiled guise for outright discrimination against black students whom the system has labeled as 'inferior' or 'troublemakers.'
We quickly see where this is all going. Young Kingsley complains to his parents, a hardworking father, Esmond
Smith, (Daniel Francis, Doctor Facilier in the Disney/ABC hit series Once Upon A Time) struggling to keep his family's collective head above water on a carpenter's pay, and a perennially overburdened mother Agnes Smith (Sharlene Whyte-Burnside-200, We Hunt Together-2020), who works night-duty as a convalescent care nurse.

Early in the film, we see her hunched over in her nightgown at the edge of her bed, head bowed in prayer, the weight of the world seemingly on her shoulders.
Kingsley can barely contain his frustration over being placed in the new school. He can't even finish laying out the evening dinner flatware before blurting out; "On Friday we did nothing all day. It isn't a school where teachers teach you nothing. Our teacher never comes to class. The last time, only for ten minutes and the kids spend all day making animal noises!"
His 18-year-old sister Stephanie (Tamara Lawrence, The Long Song-2018, Kindred 2020) thinks he's just a spoiled brat and his exasperated parents have little time or patience for his complaints.
It isn't until a local community activist, Lydia Thomas (Josette Simon-Wonder Woman 2017, Pokémon Detective Pikachu 2019) pops in for a spot of afternoon tea and some frank talk that mother Agnes is forced to confront the grim truth. Kingsley's 'special school' is nothing but a dumping ground where black students are subjected to a not-too-subtle form of racial segregation.
"I don't mean to upset you," Lydia attempts to broach the delicate subject to the obviously prickly Agnes Smith. "But there's nothing 'special' about Kingsley's school.
"Some schools in London are saying their educational standards are being eroded by the West Indian Children. They say our children are too loud, too slow, too unmanageable or too lively. It's all complete nonsense!
" You see, the system is stacked against them. From primary to secondary school, the system is designed against them. Sometimes it doesn't matter how hard they try. The system wants them to fail. I refuse to call them 'special schools,' Lydia says ruefully. Don't make me laugh!'
Lydia leaves Agnes a copy of the confidential report, which the mother tucks behind an old family portrait on a dusty shelf. She only takes it out to read behind the protective barrier of a locked bathroom door, away from the prying eyes of her family. As she nervously scans the pages, one can sense her growing outrage. The truth is a bitter pill to swallow, but Agnes gets it, and is front and center at the next parent action committee meeting that Lydia has organized.
In the meantime, a school psychologist, Hazel Lewis (a beauteous Naomi Ackie (Star Wars: Episode IX, The Rise of Skywalker, 2019) a proud British Guyanese with penetrating eyes and a strong Black identity befriends young Kingsley and gains entry to the school to witness and document the classroom neglect for herself.
Hazel and Lydia wind up as the quiet, but effective heroines of this skillfully unwound kitchen drama.
We later see Kinsley's teacher Mr. Baines (Stewart Wright (Bridget Jones Diary-2001, Dirty filthy Love-2004) nonchalantly strumming a guitar and singing the British 1964 hit 'House of the Rising Sun.' "You know who wrote that? He asked the obviously bored students. "The Animals." The query is met with bemused silence. No one cares or is even faintly interested. (It's further odd that he would sing a song that glorifies and romanticizes life in prison on a Louisiana chain gang. It's a further indication of the low esteem to which his students are held.)
One saving grace and the single bright light in Education is the introduction of Mrs. Tabitha Bartholomew, who runs the Saturday School run by Lydia and Hazel to help the kids with their reading and math. An added plus is that she uses their reading class as an opportunity to increase their knowledge of Black History and to bolster their self-confidence through a sense of racial identity and pride.
"Slavery. That's all you know of our history," she implores. "Did you know that we were once Kings and Queens? Did they ever teach you about the Nubians, the Masai and the Kingdom of Kush (now northern Sudan)."
Kingsley and the other children are transported to another world, as far away, and just as enthralling as the planets seen in the planetarium where we first meet curious young Kingsley at the beginning of the film. Education is a beautiful film and a revelatory lesson for all of us. Premiering Friday, Dec. 18 on Amazon Prime Video. Visit primevideo.com.