58th New York Film Festival and 56th Chicago International Film Festival in the rear view mirror: Nomadland
Prescient look at a world flattened by cruel circumstance of Great Recession is eerily relevant today. Now on prime video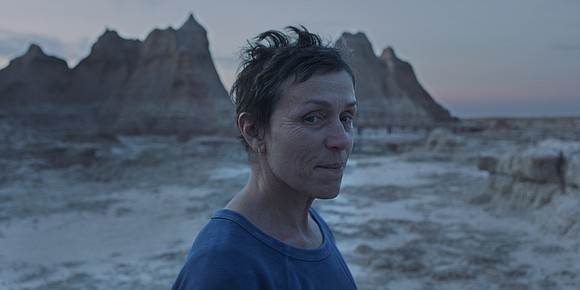 Nomadland a prescient look into the soul of a pandemic impoverished world
Frances McDormand shines a light on the new and involuntarily poor, now on primevideo.com
By Dwight Casimere
Of all of the films presented at this year's 58th New York Film Festival and the Closing Night Special Presentation at the 56th Chicago Film Festival, Frances McDormand's and director Chloe Zhao's Nomadland offered the most prescient and tenderly impassioned window into the pandemic impoverished world we now live in.
As both producer and project initiator, McDormand lends her considerable star power to writer and director Zhao's fictionalized adaptation of Jessica Bruder's non-fiction book Nomadland: Surviving America in the 21st Century.

Nomadland straddles the worlds of fiction and non-fiction with its unorthodox and reimagined approach to the very real material in the book. It portrays the emotional and tactile challenges of a newly homeless working class woman, Fern, played by McDormand, who sets out in her sole remaining possession, her van, to find piecemeal work and a chance for a new life roaming the West Coast.

Her secure home suddenly yanked away and her sole safety net, Social Security, dwindled away to a sum barely enough to subsist on after 50 years of investment, Fern finds herself bereft and alone. The film project was begun several years ago, but it may as well have been spawned today.
With the exception of McDormand and Dennis Strathairn, who plays Fern's stoic companion, a perfect foil to her persnickety nature, there are no other professional actors in the film. All are actual card-carrying, van living nomads. Some were featured in Bruder's book. Other's, like one of the characters, Derek, are people the filmmakers encountered along the way.
The story of Nomadland takes place right after the financial implosion of the Great Recession of 2008, but it serves as a primmer and a signpost marking the quagmire of entangling forces plaguing us today. For more, visit primevideo.com.