Happy Holidays and Merry Christmas
By Wayne Horne | 12/23/2020, 6 a.m.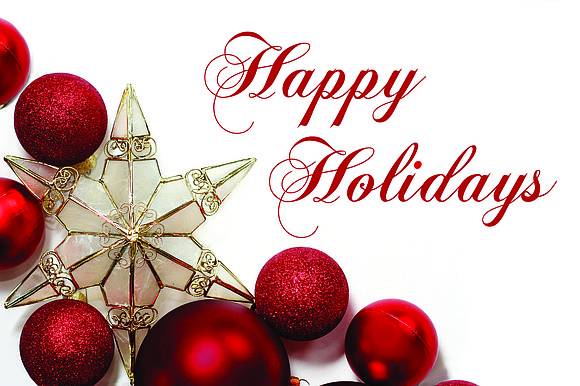 In past years, the season to be jolly would be in full swing and families would be looking forward to gatherings during this week's three-day holiday weekend. The greetings of Happy Holidays and Merry Christmas are still being used interchangeably, sometimes to the disappointment of those who quarrel over which is the proper salutation, but it's not contested much this year.
It's pointed out constantly that this year is different. This is the year of COVID 19.
In spite of the COVID 19 hardships faced by many, most of us have a place to live, food to eat, a job, health care and, most of all, a family to take comfort with, even if it's just a virtual meeting on Zoom. However, the plight of homelessness for families and individuals is a real and growing problem. Affordable housing is in short supply for many. The average rent in Joliet for a one-bedroom apartment is $950 per month. Add another 10 or15 percent for a two-bedroom place. What if your living quarters was a 3 x 5 outdoor shelter with no privacy or a place to store food? You have no financial resources, or possibly family to visit? Close your eyes for a moment and picture yourself in that situation.
Of course, homeless population stories aren't usually mentioned when you're promoting your community. The scenario described above existed here in Joliet recently at one the busiest intersection in the City of Joliet. The location of that outdoor shelter is known colloquially as Six-Corners. The PACE bus shelter located right next to the Flag Pavilion and maintained by the Joliet Fire Department was home to an anonymous person who took up residence there for several days with little or no disturbance. The individual took up the entire interior space with possessions that were in a retail store's shopping cart and several plastic bags of clothing and other possessions.
Like most people, I passed by the domicile a couple of times before it actually caught my attention. The third time I passed the bus shelter earlier this month, I decided to call my local City Council person, Larry Hug, about the situation. It should be noted it's not the Councilman's District, but he said he would look into it. He later sent me a text that said the City Manager told him the police evicted him several days ago. I sent a message that said he was back. The next day I called Interim City Manager Hock to inquire about the status of the bus shelter resident and he advised me that he had asked the police to remove him the day before my call. He was still residing there the day after I called city manager Hock. He was gone by the following day. As nearly as I can calculate the individual resided at Six Corners about 10 days. At the end of the week, I called Mr. Hock to find out where the police took the person, and in a text, he stated "Sorry but he just disappeared."
That same week the Joliet Zoning Board of Appeals turned down a request from Morning Star Mission, one of the designated homeless shelter resources, for a special use permit for a homeless facility at 135 S. Larkin Ave. The zoning Board voted against the request 6-0. Timing is sometimes coincidental. I'm not making the case for or against this particular location for a homeless shelter, just the idea that such facilities are in short supply. The City has offered no alternatives to facilitate the need.
Homelessness is a growing fact of life whether we like it or not. The City of Joliet is the county seat for Will County. Most of the county services are located in or near the city. According to some elected officials at city hall the problem of homelessness in Joliet is not the City's responsibility because most of the homeless are not from here. That's news to the people who work to help homeless individuals and families. Their stats indicate 95 percent of Joliet's homeless are residents. Some who may not be from here have become stranded due to job losses or circumstances beyond their control. Many times, those individuals are provided transportation back to their former residential locations for assistance. The myth that Joliet is a preferred location for the homeless because of the services available is laughable. Homelessness exists all over Will County, and elsewhere.
It took the city administration at least a week to relocate a homeless person from an inappropriate spot to an unknown location. He disappeared? Is there a viable explanation for this? It seems the City Council needs a plan for the growing issue of homelessness. Saying no to those providing possible solutions calls for a plan of action. Is there one? None that I've heard. Economic development is more than approval of warehouses and shopping centers.
Stay tuned…
Contact Wayne at wayneswords@thetimesweekly.com