Lyric Opera of Chicago, A 'Butterfly that soars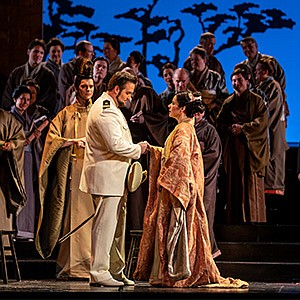 Lyric Opera of Chicago's current revival of its 2013 production of Puccini's Madama Butterfy is a performance that soars. With superb singing from an electrifying cast, led by Puerto Rican-born soprano Ana Maria Martinez as the doomed geisha Cio-Cio- San and Brian Jagde as her exploitative suitor Lt. B. F. Pinkerton, expert direction from Louisa Muller and firm, yet inspired conducting in the pit by Henrik Nanasi, this is a must for inclusion on your calendar now through March 8. Visit lyric opera.org for schedule and ticket information.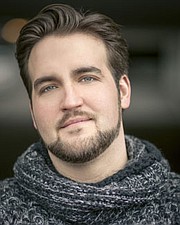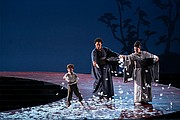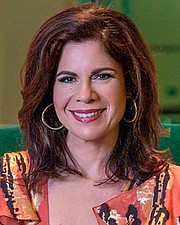 There is a sense of foreboding from the very beginning, even as Christopher Oram's set and costume design and revival lighting designer Chris Maravich set the tone of the setup for Pinkerton and Cio-Cio San's manufactured relationship. It is a sham from the outset. Pinkerton has no intention of staying with Cio Cio San. It is strictly a relationship entirely grounded in his convenience. The house, which has sliding, transformable walls, made from flimsy plywood and paper screens (almost symbolic of their transparent, transactional relationship), is on a 99 year lease, cancellable at a moment's notice. As he signs the contract, entitling him to the house and the young girl's favors, Pinkerton sings of his immediate plans to return to the U.S. to marry, in his words, "a proper American wife."

Such relationships were commonplace when military officers were stationed in foreign lands for long periods of time, far away from their loved ones. There was a lucrative clandestine cottage industry based on this circumstance. It was an unspoken fact of life. The 'marriage certificates' weren't worth the paper they were written on. They were mainly there to appease the family of the girl, and give an air of civility to what would now be considered as sex trafficking of underage girls to the wealthy. Everyone got their cut, from the corrupt local officials, both political and religious, to the various smarmy middlemen, to the families. Largely impoverished, the families of the girl received a measure of financial stability. The fact that a ceremony was held with a priest and family members present, gave it all an air of legality and civility. Such shams were commonplace in the early 20th century, as the U.S. spread its imperial wings across the globe. Pinkerton (Brian Jagde) lifts his soaring baritone voice to the rafters in praise of the era's expression of U.S. might as he and other officers in his far-reaching Navy traveled the globe, occupying territories and exploring their bounty (including their women), without a care.
As he relishes in his conquest, we begin to hear echoes of Cio Cio San's false and clearly misguided hopes for their alliance. She expresses early on her desire to denounce her own religion and culture to become what, in her mind, is a real American housewife to Pinkerton, unaware that he has already made plans to return to the state to marry there.
Thus begins the central conflict of circumstance and wills that propels this riveting Butterfly from beginning to end. It is well known that Puccini made several revisions of Butterfly, shortening it considerably from its original four hour length. The dramatic effect of this compelling story, and the spellbinding music makes a further case for brevity, with the story propelling to the inevitable with even greater dispatch.











Martinez, who has garnered international acclaim for her interpretation of Butterfly, brings a delicateness of physical demeanor and vocal expression that is someone imbued with a steely resolve. She clings to the hope of a real life with Pinkerton, even has she harbors a disconcerting attachment to a family heirloom, associated with her father's fall from grace and subsequent ritual suicide. Already, we know where this is going.
Vocally tentative is the opening arias, Martinez gained her footing quickly and used her silvery voice to full advantage in the opera's most famous dramatic arias. Lyric favorite and Washington National Opera veteran Deborah Nansteel brought a heartfelt realism to her role as Suzuki that served to emotionally ground the developing dramatic tension.
The scenes where Suzuki and Cio Cio San sit on a lonely mountain awaiting Pinkerton's return is packed with anticipation as conductor Nanasi leads the superb Lyric orchestra in some of the most beautiful music ever written for the opera.
Credit some sprightly performances by every member of the cast with making this a superlative effort. Anthony Clark Evans, the Lyric veteran, with 11 roles to his credit and a Ryan Center alum, brings a full-throated sense of irony to his pivotal role as Pinkerton's Man Friday, Sharpless. Bass-baritone David Weigel is in his second year as a Ryan Center member and will also appear in The Queen of Spades at Lyric later this season. He is fearsome as Bonze, the Buddhist high priest who denounces Cio Cio San for being a traitor her faith and her culture.
Ricardo Jose Rivera is commanding as the vainglorious Prince Yamadori, who also seeks Cio Cio San's hand in a contract marriage that is no less usurious. He too is is rebuffed by her stubborn and misguided devotion to Pinkerton.
Rivera, who is also a Puerto Rican born opera star, is a second year member of Lyric's Ryan Center as well. Lyric is to be credited for wearing cultural and color blinders in its casting policy. The stars of this Butterfly are shining examples its success.
Young Graham Macfarlane as Sorrow, Pinkerton and Cio Cio San's love child deserves a special mention for his composure and stoic portrayal in the midst of this sweeping drama in his Lyric debut.
Chorus Master Michael Black and choreographer August Tye and Wigmaster and Makeup Designer Sarah Hatten collectively rose to the height of their capabilities to make this a seamless undertaking.
Madama Butterfly is among Giacomo Pucciini's most beloved works. Its themes of cultural and sexual exploitation still, sadly, resonate to this day.
Complaints of cultural appropriation have haunted this opera since its less-than-enthusiastic premiere in 1904. There have been accusations throughout the decades that no non-Asian performer could adequately reflect the cultural conflict and emotional agony of the lead character. The performance on opening night makes the case otherwise. I'll let you judge for yourself. The next performance is Valentine's Day, Feb 14 at 7pm, followed by performances Monday, Feb. 27, Friday, Feb 21, Monday Feb. 24, Saturday, Feb. 29 and two matinees Wed. Mar 4 and Thursday March 5 at 2pm. Final performances are Saturday, Mar. 7 at 7:30pm and a matinee Sunday, Mar. 8 at 2pm. For information visit lyric opera.org.