JWHS Varsity Girls Basketball wins SPC Championship 2020
2/18/2020, 4 p.m.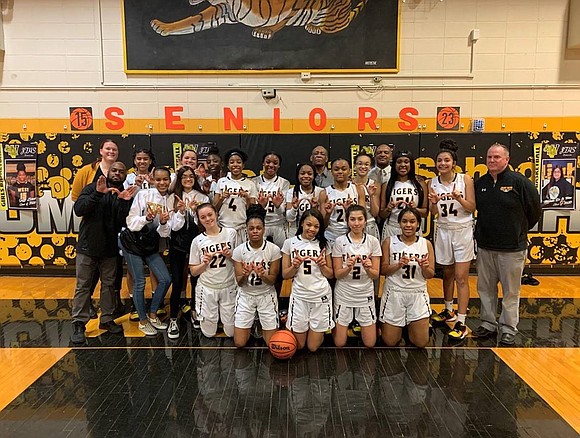 The Joliet West High School Varsity Girls Basketball Team defeated Joliet Central High School with a score of 44-41 to win the SPC Conference Championship on February 11, 2020 at Joliet West High School.
The team is coached by Head Coach John Placher and Assistant Coaches Katie Vanderhyden, Marvin Evans, and Reggie Lemon. The team members are Laila Gibson, Gracie Moyers, Lisa M Thompson, Maliyah Walker, Caiside Snapp, Destiny McNair, Jazzpher Evans, Jerryale Gillespie, Grace Walsh, Symone Riley, Marlena Smith, Sky Moore, Akeisha Watson, Jessica Kyd, Miranda Rosales, Managers: Mariana De La Torre and Adasia Mercer.
Coach Placher said, "It's been an amazing season, starting off 5-3 and coming together to win 22 in a row, with ending with winning the SPC conference. The girls are really looking forward to the state tournament."
The Lady Tigers will compete next at the IHSA Regionals on Tuesday 02/18 at 6 pm at the Joliet West Main Gym. Gates will open at 5 pm and the cost to enter per person is $5 (cash only). Activity stickers will not be accepted, and there will be no presale tickets.
JTHS wishes the JWHS Varsity Girls Basketball Team the best of luck at the competition.