Joliet West Girls Basketball wins IHSA Regional Championship
2/24/2020, 9:44 p.m.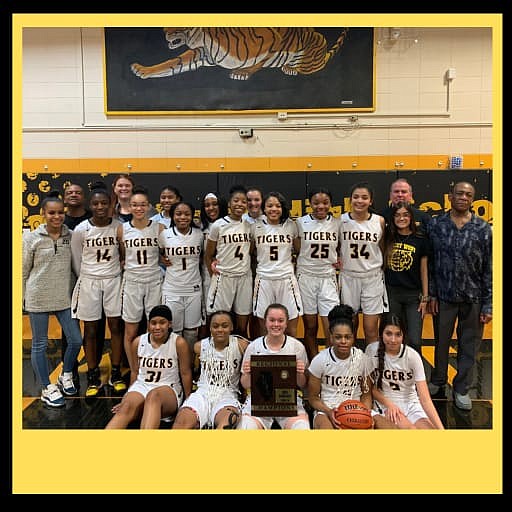 thetimesweekly.com
The Joliet West Girls Basketball won the IHSA Regional Championship on February 20, 2020 for the first time in thirty years. Their next competition will be the IHSA
Sectionals on February 25, 2020 at 7:00 p.m. at Pekin Community High School against Lincoln-Way West.
The team is coached by Head Coach John Placher and Assistant Coaches Katie Vanderhyden, Marvin Evans, and Reggie Lemon. The team members are Laila Gibson, Gracie Moyers, Lisa M. Thompson, Maliyah Walker, Caiside Snapp, Destiny McNair, Jazzpher Evans, Jerryale Gillespie, Grace Walsh, Symone Riley, Marlena Smith, Sky Moore, Akeisha Watson, Jessica Kyd, Miranda Rosales, Managers: Mariana De La Torre and Adasia Mercer.
Coach Placher said, "The game was a very hard fought battle between two very good teams. The score was 49-45. We were trailing by 4 with 3:30 minutes to go and the girls never gave up. I am very proud of how the girls competed all season. They always bring their A game on game night. The girls are looking forward to competing in the sectional against Lincoln-Way West."
Those wishing to cheer on the Joliet West Girls Basketball team may purchase their tickets (cash only) for $6 each at Pekin Community High School. Tickets will not be available for advance purchase.
JTHS wishes the JWHS Girls Basketball Team the best of luck at their next competition.
Pictured (Left to Right): First Row: Ski Moore, Symone Riley, Grace Walsh, Jazz Evans, Gracie Moyer; Second Row: Dasia Mercer, Destiny McNair, Caside Snapp, Laila Gibson, Lisa Thompson, Maliyah Walker, Marlena Smith, Mirada Rosales, Mariana De La Torre, Coach Evans; Third Row: Coach Lemon, Coach Vanderhyden, Akeisha Watson, Jerryale Gillespie, Jessica Kyd, Coach Placher