Courthouse construction causes Pace detour and transfers changes
Routes 501, 504, 505, 507, 508, 509, 511, 512, 832, 834 - Downtown Joliet Detour & Transfer Point Change -- Effective Monday, March 2, 2020
2/25/2020, 8:55 p.m.
Due to construction near the Will County Courthouse, the transfer point in Downtown Joliet will be moved to a temporary location on Joliet St. at Webster.
During the detour, only Routes 505 (CCW), 508, 509, and 834 will serve the Courthouse, at the Jefferson/Ottawa (SE corner) stop. Only Routes 504, 505 (CCW), 511, 512, and 832 will serve Joliet Union Station, at the Scott/Jefferson (NE corner) stop. Transfer between these routes at the Joliet St./Webster transfer point.
All routes will have minor schedule adjustments due to the detour. Buses will stop only at bus stop signs along the detour segments. The detour is expected to end in late 2020. New timetables dated March 2, 2020 will show the adjusted routing and schedules.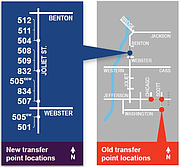 For More Information
• Call Pace Customer Services at (847) 364-PACE
or the
• RTA Travel Information Center at 836-7000 (from any local area code)