Joliet West Boys Basketball wins 2020 SPC East Division Championship
2/25/2020, 3:45 p.m.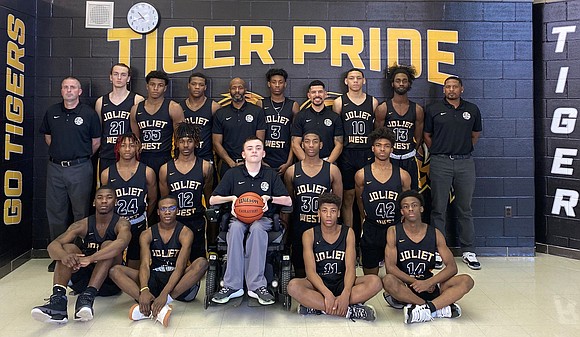 The Joliet West Boys Basketball won the SPC East Division Championship on Monday, February 24 at Joliet West High School. They finished an undefeated conference season by defeating Plainfield Central High School 66-60 where they were led by senior Jamere Hill with 15 points and freshman Jeremy Fears Jr. with 14 points. The team is coached by Jeremy Kreiger, Jeff Corcoran, Michael Mines, and Andrew Johnson. The team manager is Lawson Sizemore.
Coach Kreiger said, "We are proud of these young men for committing to the program and being dedicated to one another. We established a culture over the summer based upon establishing goals and understanding what attaining those goals would require. To win conference is an accomplishment in itself but to go 16-0 heightens that feat. No team has went 16-0 in SPC conference play and now they have set that mark. As coaches we are very fortunate to have a group of players as special as these 14 young men are!"
JTHS wishes the Joliet West Varsity Boys' Basketball Team the best of luck in IHSA Regional Competition.