2020 Lexus NX 300h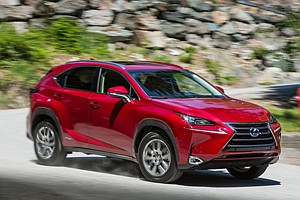 When we got to Baton Rouge and went over the Mississippi River Bridge we turned south and headed to New Orleans. We had 45 minute or so to go. That's when the LED headlights really came into play and we appreciated the automatic high beams.
This was as dark a stretch of Interstate as we've seen in a while. But it is flat and straight. We cruised at more than 80 mph just to keep pace with the traffic; and there was still a lot of it.
Once we got here, we found the 2020 Lexus NXh was just as easy to handle on city streets as it was on the Interstate. We had stopped for fuel in Breaux Bridge, LA, thus, we were able to drive around this city for more than eight days. We didn't gas up until it was time to go back to Houston.
The crossover's EPA rating was 33 mpg in the city, 30 mpg on the highway and 31 mpg combined.
We had a sporty 2020 Lexus NX 300h. It had a black and red interior with gray stitching in the front and red stitching in the back. The front seats were heated and cooled and it had three ride modes: eco, normal and sport. You could also set it in pure EV mode but that wouldn't last long, perhaps up to 25 mph.
The center console was a sloping affair. The infotainment screen was atop the dash, climate vents followed and then the climate controls. There was a round analogue clock placed in the middle of the center stack. And the audio controls were beneath.
On the center console was a control pad, just behind the gear shifter. In the console there were two USB jacks, an auxiliary jack and a 12V plug.
The instruments were digital with white numerals reversed out of a black background. They had a three dimensional feel because the odometer and speedometer had what looked like metal rings around the digital numbers. There was a small TFT screen between them.
There were paddle shifters, a moonroof, a camera that provided a 360-degree scan of the immediate surroundings plus an overhead view. This NXh also had an automatic power liftgate.
This crossover was very easy to drive. The streets here have been refashioned since Hurricane Katrina submerged most of the city. Thus, an awful lot of lumps, bumps and swells were gone.
The front seats were comfortable, and the backseats were spacious. There were other creature comforts: voice controls and a power tilt and telescoping steering wheel. It had push button start stop as well as keyless lock and unlock.
The 2020 Lexus NX 300h, through its Enform app suite, can be integrated to a Smart Watch and Alexa. This was a right mix between luxury, fuel efficiency, performance and practicality. For $50,822, it is not a bad purchase for car buyers at this price point.
Frank S. Washington is editor of AboutThatCar.com