Emergency sewer repairs
1/7/2020, 8:24 p.m.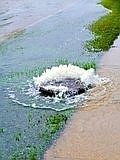 Just like residents who have emergency repairs to their homes, the Village of Plainfield is also not immune to unexpected expenses.
The Plainfield Village Board Monday authorized paying $14,204.28 for emergency repairs to the sanitary sewer main on Route 30. Allen Persons, public works director for the village, said on Dec. 13 a 10-inch sanitary sewer main that extends along Route 30 south of 135th Street was crushed and required immediate temporary repair to prevent sewage back up in the area.
Excavators opened this pipe, which, Persons said, allowed the sewage to flow. The permanent repair occurred on Dec. 18, whereby a new section of the sewer main was installed, he added.
"This was a challenging project as this sewer was about 10-foot deep and several utilities were in close proximity of our sewer main," Persons said.