Romeoville Mayor Noak appointed to National League of Cities'
1/7/2020, 8:20 p.m.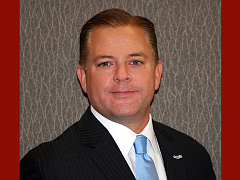 Romeoville Mayor John Noak has been reappointed to the National League of Cities (NLC) 2020 Transportation and Infrastructure Services federal advocacy committee. This committee has the lead responsibility for developing NLC's federal policy positions on issues involving transportation, including planning, funding, safety and security of public transit, streets and highways, aviation, railroads and ports. The reappointment was announced by NLC President Joe Buscaino, council member.
"I'm happy to serve on this important national committee," stated Noak. "I look forward to working on federal transportation issues that communities like ours face every day."
As a committee member, Noak will play a key role in shaping NLC's policy positions and advocate on behalf of America's cities and towns before Congress, with the administration and at home.
"NLC's federal advocacy committees ensure policymakers in Washington understand the most pressing issues facing local communities," said Joe Buscaino, councilmember of Los Angeles, California, and president of the National League of Cities. "I am proud to have Mayor Noak rejoin NLC's Transportation and Infrastructure Services committee on behalf of Romeoville's residents. Together, with a team of local officials from across the country, we will strengthen the federal-local partnership, and ultimately create stronger cities, towns and villages."
Mayor Noak is also part of the NLC's University Communities Council and is Chairman of the Des Plaines Valley Enterprise Zone. Additionally, he serves as a board member of the Joliet Regional Port District and Will County Center for Economic Development and is on the executive board of the Chicago Metropolitan Agency for Planning.
For more information on NLC's federal advocacy committees, visit: www.nlc.org/advocacy/committees.