Joliet passes new water source
Madhu Mayer | 1/8/2020, 9:16 p.m.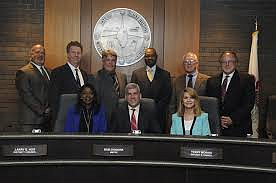 The Joliet City council on Tuesday voted to accept the environmental commissions recommendation to use Lake Michigan as Joliet future water source. It is expected to take 7 to 10 years for planning and construction.
Councilman Hug said the city would be pursuing other communities for partnerships that could potentially lower future infrastructure cost to keep water cost down.
The project is now underway and is estimated to cost between $900 million and $1 billion, and it could increase the monthly water bills of Joliet residents as much $50 to $70.
The City of Joliet's existing water source will no longer be sustainable by 2030, if the current water usage rates do not change. Currently, the city receives its water from the Ironton-Galesville aquifer. When determine what its water source would be in the future, Joliet created the Environmental Commission panel.
The City conducted the Rethink Water Joliet study to evaluate alternative sources for its water supply. The city's Environmental Commission worked with staff to evaluate the options and recommended to the Joliet City Council the best course of action for the community to take.
In August 2018, the City of Joliet initiated alternative water source study, which was completed in November.
Joliet's Environmental Commission made the recommendation at the end of 2019.
Either way, resident Manuel Banuelos of Joliet is not excited about the prospect of a water bill increase.
"We are talking about a significant hike," he said. "If my water bill goes up by $50 each month, I am going to have to cut corners. We are not talking about a $5 increase. The sad thing is everyone else is in the same boat as me."