Troy Wrestling Team Places at Homer Invite, Coal City Warrior Invitational
1/9/2020, 10:01 p.m.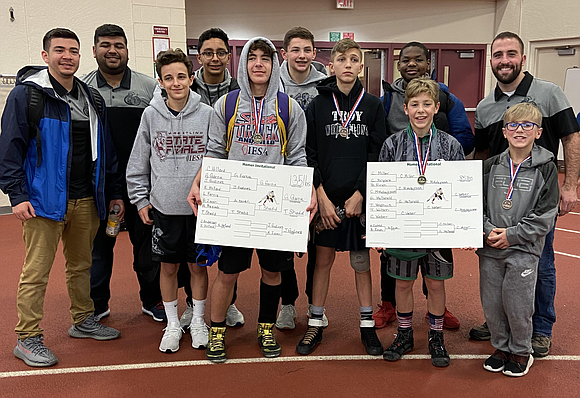 The Troy Trojan Wrestling Team placed 2nd at two recent competitions - the December 21 Homer Invite held at Lockport Township High School East Campus and the January 4 Coal City Warrior Invitational.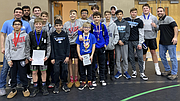 Out of the 18 co-ed Troy wrestlers at the Homer Invite, eight made the podium for individual efforts, including Gavin Garcia (8th grade) and Carson Weber (7th grade), who placed 1st in their weight brackets; Wyatt Schmitt (8th grade), who placed 2nd in his bracket; Coehn Weber (5th grade), who placed 3rd; Cassie Koerner (5th grade), Aurelio Munoz (6thgrade), and Ryan Rogers (8th grade), who placed fourth; and Janick Schwab (8th grade), who placed 5th.
Other Troy wrestlers competing at the Homer Invite were 8th graders Darian Artaega, Joey Boettger, Justin Boettger, Jayden Groner and Zach Meza; 7thgraders Charles Anderson, Tristan Caldwell, Colin Morgan and Nico Ronchetti; and 6th grader Payton Hudson.
"Overall the tournament went well, with all of our wrestlers putting their heart, sweat, and tears on the mat," Coach Chris Meza said. "Now it's back to the grind to improve the mistakes that occurred, but I'm very proud of our wrestlers not giving up and always leaving it on the mat."
Coach Rudy Meza said the team performed well at the Homer Invite.
"Each wrestler wrestled their match and it showed," he said. "We as coaches saw good things and also saw room for improvement. We couldn't be prouder of every single wrestler and look forward to the rest of the year."
The Coal City Warrior Invitational saw even more members of the Troy Trojan Wrestling Team place, with 12 on the team earning first through sixth places.
Taking 1st places in their weight categories were Wyatt Schmitt and Carson Weber. Placing 2nd were Noah Avina (7th grade) and Joey Boettger. Coming in with 3rd places were Gavin Garcia, Zach Meza and Coehn Weber.
Taking 4th places were Colin Morgan and Janick Schwab, and Max Hrvatin (8th grade) placed 5th. Jayden Groner and Nico Ronchetti placed 6th.
In addition to the above-mentioned team members who participated in the Homer Invite, Payton Hudson (6th grade) and Korey Koser (7th grade) also participated in the Coal City Warrior Invitational.
Head Coach Joseph Jaeger said this year has so far been a special one for the team.
"I came into the season with my own expectations of what this team is capable of," Jaeger said, "and the team is exceeding those by achieving these milestones. There is plenty of work still to be done, but I am very proud of the effort and hard work that each wrestler is putting into this season."
The Troy Trojans wrestlers are members of the Troy Community School District 30-C schools Troy Middle School and William B. Orenic Intermediate School.