NY Philharmonic with Paul Lewis and Grieg Piano Concerto
Dwight Casimere-ent@thetimesweekly.com | 1/15/2020, 3:51 p.m.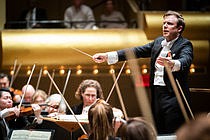 Edvard Grieg's Piano Concerto in A Minor is one of the towering works of the repertoire. Paul Lewis and the New York Philharmonic, Daniel Harding, Conductor, lived up to its daunting challenges and exceeded them.
Possessing one of the most distinctive introductions in all of the piano concerto repertoire, Lewis took great care in emphasizing its dramatic contours while preserving its exceptional melodic line. Conductor Harding maintained a luxurious backdrop of nuanced tonal color, which allowed Lewis's cascading melodies to shimmer like sparkling jewels. In so many ways, Lewis gave added impetus to Greg's signature cascading intervals and lent an additional flourish that made them even more dramatic.
The interplay between soloist and orchestra was evident throughout and made for a most satisfying listening experience. This was Grieg realized at the height of perfection, with careful attention to every nuanced detailed. The finale was nothing short of thrilling, with the audience brought to its feet for an extended ovation. Lewis and Harding are frequent collaborators. Their level of rapport and simpatico was definitely on full display. Lewis, an English pianist and former student of Alfred Brendel, was the winner of several international competitions and made his US debut in recital at New York's Lincoln Center in 2002.
Like the Grieg, Strauss's An Alpine Symphony is a monumental work, with a battery of instruments, including thunder sheet, cowbell, wind machine, timpani with two players, organ, celesta and an off stage ensemble of 16 horns. This is Wagner and Mahler combined, with both on crack! Under the firm hand of conductor Harding, it all came together as an exquisite whole with a ravishing finale.