USF "Music at Moser" Spring 2020 Performance Series
1/15/2020, 9:45 p.m.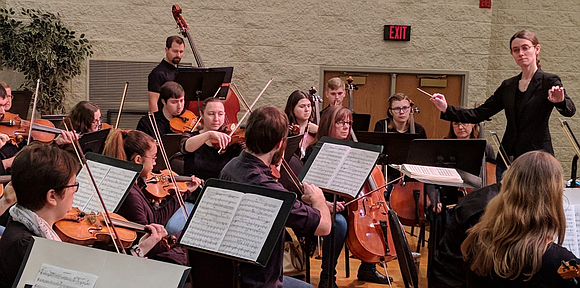 The University of St. Francis Department of Music and Performing Arts is offering exciting music and theater performances to the Joliet and Will County communities through its "Music at Moser" series. All performances have open seating and take place on the main USF campus located at 500 Wilcox Street in Joliet unless otherwise indicated. Please note all performances are subject to change. Visit stfrancis.edu/music-at-moser or call 815-740-3395 or for up-to-date performance information and to purchase tickets (indicated in event listing). Ticket prices are the same for all performances, unless noted otherwise in the event listing, and are as follows: $10 for adults; $7 for senior citizens (65+), alumni and non-USF students; current students and staff admitted free of charge with valid USF ID.
Joliet Symphony Orchestra Family Concert
Saturday, January 18 at 11 a.m.
Sexton Auditorium (Moser Performing Arts Center) | Free admission
A special concert for children and families! This interactive concert will teach children all about music through a variety of music compositions. Following the performance, children of all ages can take part in a variety of hands-on activities, including trying out the instruments themselves! This concert is conducted by Dr. Dianna Fiore, USF director of orchestra.
In Recital: Rae Myra Hillard, Soprano
Saturday, February 15 at 3 p.m.
Sexton Auditorium (Moser Performing Arts Center) | Tickets required*
USF voice faculty member Rae Myra Hillard presents a concert of music composed by Black-American composers, featuring the texts of Black-American poets and orators. She will sing the music of such honored composers as Valerie Capers, Robert Owens, Adolphus Hailstork, Regina Harris Baiocchi, H. Leslie Adams and Dr. Charles Lloyd Jr. The music is set to timeless poetry and texts by Zora Neale Hurston, Countee Cullen, Dr. Martin Luther King Jr., Langston Hughes, Clarissa Scott Delany, and others. Rae Myra will be accompanied by Dr. Dana Brown, piano and Allegra Nontanari, cello.
In Recital: Teresa Walters, Piano
Friday, March 27 at 7:30 p.m.
Sexton Auditorium (Moser Performing Arts Center) | Tickets required*
Dr. Teresa Walters has performed as recitalist and orchestral soloist on six continents and in most of the 50 states in the U.S. at venues including Carnegie Hall and Lincoln Center in New York, Wigmore Hall in London, the Salle Cortot in Paris, Moscow's Great Hall, Australia's International Conservatorium and Jerusalem's Concert Hall. Her Lincoln Center recital in New York earned a standing ovation from a capacity crowd. She will present her acclaimed program, "Celebrating Our World," at USF, a concert of music for solo piano, which honors the world's shared heritage and common humanity.
The Swinging Saints Sing a Rainbow—
A Concert about Colorful Music and Colorful People
Friday, April 3 at 7:30 p.m.
San Damiano (Motherhouse/Donovan Hall) | Tickets required*
USF's vocal jazz ensemble, the Swinging Saints, sing about colors and colorful people in this exciting performance! Classics like "Somewhere Over the Rainbow" will be accompanied by favorites like favorites like "Orange Colored Sky," "Black Coffee" and "Am I Blue?" Conducted by Paul Laprade, USF assistant professor of music.