Shorewood Lions Club recognizes Troy 30-C Dec 2019 Students of the Month
1/20/2020, 8:53 a.m.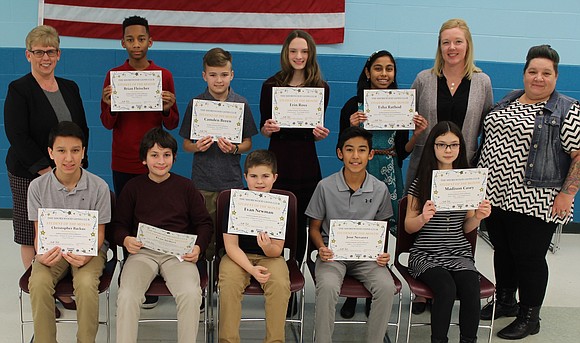 The Shorewood Lions Club recognized its Troy Community School District 30-C December 2019 Students of the Month at the school district's January school board meeting.
The Students of the Month are William B. Orenic Intermediate School 6th graders Christopher Backus, Evan Newman, Esha Rathod and Evan Siebert.
Troy Middle School 7th grade Students of the Month are Camden Breen, Madison Casey, Zeek Lara and Kylie Papp. Eighth grade Students of the Month are Brian Fleischer, Jose Nevarez, Erin Ross and Nathan Rossow.
Students were selected by the Shorewood Lions Club on the basis of consistent effort, productive citizenship, positive attitude and participation in class. Club President Noelle Viola presented the awards to the students.
In addition to receiving certificates as Students of the Month, the students received $10 Amazon gift cards from the club.
The Shorewood Lions Club helps needy persons in Troy Township who have sight or hearing problem get glasses, hearing aids and other related equipment, including seeing eye dogs. They also help sight- or hearing-impaired children sign up for Camp Lions in the summer.
The club meets at at Matty's Grill and Pancake House, 995 Brook Forest Avenue in Shorewood, on the second Saturday of each month at 9 a.m. Visitors are welcome.
For more information on the Shorewood Lions Club, contact the club's president, Noelle Viola, at shorewoodlionsclub@gmail.com.