Nurses continue to strike for fair wages from AMITA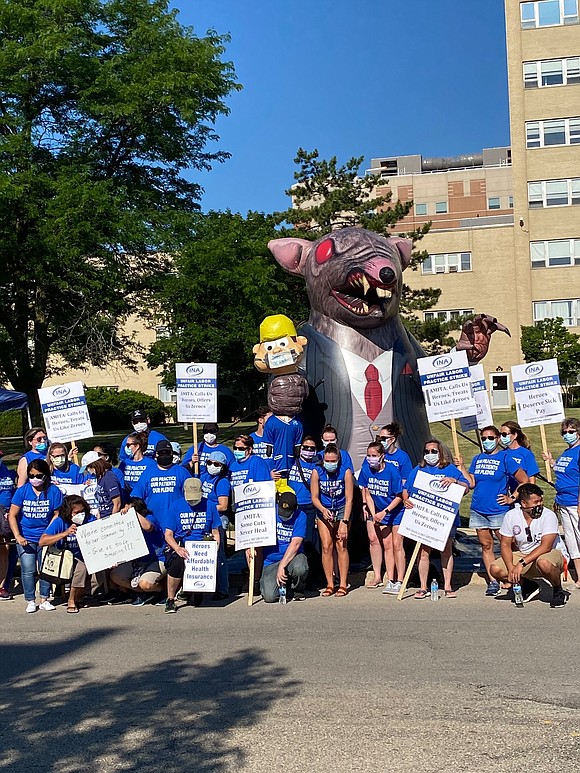 Nurses represented by the Illinois Nurses Association who work at AMITA St. Joseph's Medical Center, in Joliet, spent the past four days on the picket lines after going on strike July 4.
The nurses have continued to picket along the sidewalk in front of St. Joseph's Medical Center, 333 Madison St. AMITA Health presented its final offer to the negotiating team last week and is scheduled to meet again with the team on Wednesday.
Every proposal from AMITA has been rejected by the nurses thus far. The two sides were still far apart the week prior to the strike. According to Pat Meade, one of the nurse negotiators, the latest contract proposal from AMITA management was in some ways worse than its first offer.
In May, the nurses voted 558 to 53 to authorize an unfair labor practice strike. INA represents more than 720 nurses who work at the hospital and both sides have been in negotiations on a new contract since early spring. The current contract expired May 9th and negotiations have been supervised by a federal mediator.
The nurses have said they called a strike due to unfair labor practices committed by the hospital and failure to reach an agreement regarding safe staffing, preservation of sick leave, PTO benefits, and fair wages. St. Joseph Medical Center has instead been granted bailouts by the federal government, and sold out its workers, including wage freezes and failure to address unsafe work conditions. To this, nurses say NO! In 2019 alone, nurse documented 205 days of unsafe patient care conditions…"
AMITA Health officials released a brief statement following the last meeting with the INA negotiating team. "Today, the team for AMITA Health presented its final proposal to the INA negotiating team in advance of this morning's session, giving INA the opportunity to consider the proposal for the benefit of all their members," said Olga Solares, associate vice president of Communication and Media Relations for AMITA Health.
Solares added "high quality care and service throughout" would be provided during the strike. "As always, the health and the safety of our community are our top priorities," she said.
Meanwhile, in a letter to the Illinois Department of Financial and Professional Regulation, the Illinois Nurses Association said AMITA St. Joseph's Medical Center and one of the staffing agencies it is utilizing are poised to violate the Illinois permitting regulations for hiring nurses from outside of the state during the COVID-19 pandemic.
"INA contends that a recruiting firm hired by AMITA is reaching out to nurses who work in other parts of the country to persuade them to fill in as temporary nurses during the imminent strike. At least one of the agencies AMITA is utilizing has advertised for Registered Nurse strike replacement positions with a requirement of Illinois licensure or a COVID-19 Permit. However, COVID-19 permits are only to be used to support emergency staffing during the pandemic."