Joliet interim City Manager resigns
Steve Jones' resignation to take effect Aug. 7
By Rex Robinson | 7/8/2020, 1:36 p.m.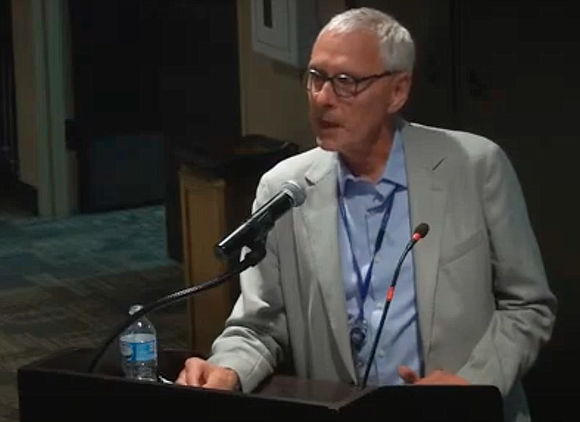 Joliet interim City Manager Steve Jones has resigned his position.
The Joliet City Council went into executive session after a very heated meeting on Tuesday night that included some angry exchanges between Jones and Mayor Bob O'Dekirk.
On Wednesday morning, news of Jones tendering his letter of resignation to the City Council during the closed executive session leaked out to various media outlets.
"If it had not already been announced on the radio this morning, I would not be com-menting on it," Councilwoman Jan Hallums Quillman said. "It was announced on the radio that his resignation will take effect Aug. 7. The city will have to move quickly now to find an interim replacement."
O'Dekirk told the Times Weekly on Wednesday morning that he has been working to find a new city manager for some time now and always felt Jones should not have been in the position in part because he doesn't even live in Joliet.
"I don't think it's going to be that hard to find an interim replacement while the council does a search for a permanent City Manager," O'Dekirk said. "We're already moving in that direction."
A special meeting is set for Tuesday to discuss the city manager position among other items, according to the mayor.
During the council meeting O'Dekirk accused Jones of mishandling a police investigation involving the leak of a dash cam video of Eric Lurry Jr., after his arrest by Joliet Police in January. The video shows two officers attempting to get suspected drugs out of Lurry's mouth using a baton and holding his nose. Lurry later died at AMITA St. Joseph Medical Center.
O'Dekirk has had numerous other disagreements with Jones in recent months and has also pushed the council to speed up the process of finding a permanent city manager.
Jones had worked month to month as interim City Manager since March 1, 2019 under the current contract and served for more than a year in the position prior to that. O'Dekirk and some of the other council members said at a meeting in June that time is now for change.
Well, now is here.. as city officials will have to scramble to find a new city manager to fill the position now that Jones has resigned.
In June, five of the council members - Pat Mudron, Bettye Gavin, Sherry Reardon, Mike Turk and Don "Duck" Dickinson - had voted to re-hire a search firm to start the process yet again of finding a permanent city manager. That would have been the second search since Jones has been there.
Jones was first hired as Joliet's Economic Development Director and Deputy City manager in 2015. He later became interim city manager working month to month.
One recent move by Jones that really angered O'Dekirk came in May when Jones re-moved Marty Shanahan as Joliet's Corporation Counsel.
O'Dekirk said it had been about a year since the five council members removed interim city manager Marty Shanahan and replaced him with Jones. By keeping Jones in place as manag-er, O'Dekirk added, the city was not in compliance with its own ordinance. Jones lives in Hinsdale and had already retired from the city.