School districts move ahead with unique plans to reopen
Some parents concerned it could be too soon for in-class learning
By Rex Robinson | 7/15/2020, 9:39 p.m.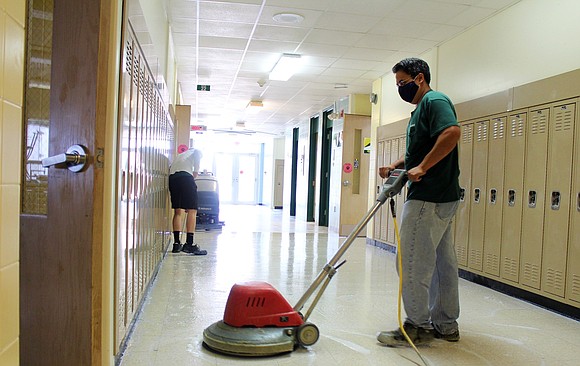 As school districts across Will County scramble to adopt plans to reopen schools in the fall and bring students back into classrooms as part of Phase 4 of Gov. J.B. Pritzker's Restore Illinois Plan some parents are somewhat apprehensive.
The Coronavirus pandemic continues to linger and in some areas of the country the numbers are surging, regardless of this, at the federal level President Donald Trump has made it clear he wants schools to reopen in the fall, and while he has made threats about cutting off federal funding to schools and colleges that don't comply, the states have the upper hand and control as well as determine the majority of funds supplied to local schools.
An online reader's poll conducted by The Times Weekly revealed that parents are not ready to send their children back to school. The Times Weekly asked: "Are you ready to send your child back to school this fall as the Coronavirus continues to linger?" More than two-thirds - 66.67 percent said "no" and 33.33 said "yes."
Candice Wells, of Crest Hill, is a stay-at-home single mother who runs a salon business from her home. Her daughter, Cadence, is starting first grade and another daughter, Abria, is starting seventh-grade. Both attend Chaney Monge School in Crest Hill. Wells also has a sister, in high school at Lockport Township High School District 205, who rides the bus to school.
'Everything is just up in the air. I need more information.'
- Candice Wells
Wells said she thinks it's too soon for the schools to reopen. "It's just not safe," she said.
Chaney Monge School District 88, Wells adds, has not yet provided clear direction on the plans on details on how the school will re-open in the fall, except to offer guidance on face masks. Officials from some districts are in the midst of getting plans approved by their school boards before releasing the information to parents.
"Everything is just up in the air," Wells said. "I need more information."
From how the students will eat lunches with masks on to plans for social distancing, Wells said there are more questions than answers at this point and the schools likely need more time to prepare to reopen.
She said her concern is if schools open too soon, the state, which is now at Phase 4 of the Restore Illinois Plan, could go back to Phase 2 or 3.
"They need to phase in schools just like they're phasing in everything else," Wells said.
What's really needed, she adds, is more help with technology so she can better help her daughters at home with remote learning until the schools are ready to reopen.
The remote learning that became the norm following the initial outbreak of the Coronavirus in March revealed that not all students had access to computers to complete lessons from home. Pritzker has pledged to resolve that problem beginning with this fall, as some remote learning will continue into the next school year.
"As districts across Illinois prepare for the fall, we will continue to provide support and guidance as they determine how to best serve their communities in a healthy fashion," Pritzker said during a press conference on Tuesday in Chicago.
'Every student, no matter the color of their skin, where they live or their income level deserves a high quality education from cradle to career.'
- Gov. J.B. Pritzker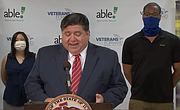 In addition to the $512 million federal CARES Act funding earmarked for pre-school through 12th grade, Pritzker pledged an additional $50 million in "Governor's Emergency Education Relief Funding" across three areas. These, he added, include closing the digital divide to support students in-person and at home, training educators and families to assist students in using technologies and learning models and launching a student care department with the state board of education dedicated to equipping districts to assist students who have experienced trauma. Pritzker added that an additional $100 million on top of the $512 million will be added to ensure technologies and support is in place for all students and their families.
"Every student, no matter the color of their skin, where they live or their income level deserves a high quality education from cradle to career," he said.
Shadae Martin, of Plainfield, like Wells, expressed concern about rushing to send students back too soon. Her son, Jayden, will be a sophomore at Joliet West High School, which has a student population of about 3,000. A varsity basketball player, Jayden is eager to get back to school, but his mother favors the district's option to continue remote learning at home.
"I just don't think it's really a good time to send any children back to school," Martin said. "There's no way for them to social distance with all those children in congested hallways, rushing to get to their classes during passing periods. It just seems premature."
Many area districts are starting to release options to parents for re-opening. Area colleges and universities have also released guidelines for returning students and these include blended options of online and in-class as well. However, colleges and universities are by default more experienced with online learning as most have been doing it long before the Coronavirus pandemic.
Joliet Public Schools District 86
The Joliet Public Schools District 86 Board of School Inspectors adopted a "Hybrid and Blended Remote Learning Plan" for the upcoming 2020-2021 school year after a presentation by District 86 Supt. Theresa Rouse and administrators at last week's school board meeting.
The 23-page plan is based on current guidelines from the Illinois State Board of Education (ISBE), Centers for Disease Control and Prevention (CDC), and the Illinois Department of Public Health (IDPH), as well as guidance from the Will County Regional Office of Education and the Will County Health Department.
'Ideally, we would have loved to have students back to school every day, but we do not have enough space in our buildings to keep everyone safe."
-District 86 Supt. Theresa Rouse
"The plan will be revised as we receive additional updates from ISBE, CDC, and IDPH officials," Rouse said. "We wanted to release the plan now to give our families and teachers as much time as possible to start planning. Over the next two weeks, we will call all families to finalize student registrations and receive feedback to help us as we prepare classes and schedules."
The plan, posted on the District 86 website at www.joliet86.org, includes two options: a hybrid plan or a fully remote plan. The hybrid plan is both in-person instructions for students, as well as remote learning. All students, Kindergarten through eighth grade, will receive a Chromebook to use at home. Class sizes will be small to ensure appropriate social distancing to the best extent possible and masks will be required. In addition, thorough safety and cleaning measures will be enforced to keep everyone safe and healthy. In both plans, daily attendance will be taken and grades given.
"Ideally, we would have loved to have students back to school every day, but we do not have enough space in our buildings to keep everyone safe," Rouse said. "I truly thank the individuals who spent numerous hours over the last several weeks developing these detailed plans that are both safe and viable for students, staff, and families."
The first day of school for students is Aug. 24. District 86, the fourth largest elementary school district in Illinois, serves more than 11,000 students from Pre-Kindergarten through eighth grade at 21 schools in Joliet.
Plainfield Community Consolidated School District 202
Plainfield Community Consolidated District 202 students would start the 2020-21 school year with remote learning but could return to in-person learning for the second quarter this fall if COVID-19 conditions allow, under a proposal unveiled Wednesday.
District 202 Superintendent Dr. Lane Abrell shared the district's proposed "Return '20" plan at a special Board of Education "Committee of the Whole" meeting. The Board is expected to vote on the proposal at its regular meeting on Monday.
The proposal, a video of the special meeting and a special email to comment directly to Board members and district administration are posted under the "D. 202 Return '20 Plan" icon on the front page of the District 202 website.
"We believe this plan meets everyone's top priority, which will always be the health and safety of our 25,000 students and 3,200 staff members," Abrell said. The proposal, according to district officials, reflects input from nearly 33,000 parent, student and staff comments collected through several surveys this spring and summer.
"We have worked very hard since this spring to significantly strengthen our remote learning capabilities and resources. We believe we can effectively and efficiently educate and support our students remotely until it is safe for them and our staff to return to school in person," Abrell said.
If the proposed plan is approved, students would start school on Aug. 24.
The district plans to distribute laptops to all 6th-12th graders between August 17 and 21, 2020. The district is exploring providing laptops for 4th and 5th graders as well.
District officials said they will monitor COVID-19 conditions through the first six weeks of school. If conditions improve sufficiently, students could return to school in person the second quarter of the year, which starts October 19, 2020.
Students could return sooner if conditions improve rapidly. Remote learning would continue if the pandemic conditions do not improve. In-person instruction would be held on either a partial/modified or hybrid schedule depending on circumstances, to limit numbers of students in buildings. Options include A/B schedules and/or blended remote and in-person learning.
Parents will be able to choose whether to send students back to school if in-person learning resumes after the first nine weeks of school.
In any case, in-person instruction would require robust safety protocols and guidelines, including students and staff wearing masks indoors at all times per current state guidance.
If conditions significantly improve, students could return to in-person learning in larger, more "normal" numbers, again with robust safety protocols and guidelines.
Parents would still be able to choose whether to send students back to school.
Building administration will share plan details with families once the proposal is approved.
"We have to crawl before we walk, and walk before we run," Abrell said.
Here's a link to District 202 reopening plan: http://www.psd202.org/page/return2020
Valley View School District 365U
Valley View School District 365U's plans for reopening also incorporate "a hybrid model of in-person and remote learning." That was part of the message sent out to the community by Supt. Rachel Kinder. She said the 2020-21 Back To School Book contains information parents will need so that students are ready for when school resumes on Aug. 17. The Back to School Book also is available on the district's website.
"Please keep in mind our situation regarding the return to school is evolving," Kinder said in the message. "Based on the direction from the Restore Illinois Plan and the guidance from the Illinois State Board of Education and Illinois Department of Public Health, there are several requirements that will be a part of our routine when school resumes."
The Illinois State Board of Education, Kinder said, summarizes "key guidelines that will be a part of our Return to School Plan. Please take time to review these and begin to support your child in understanding and practicing things like the use of face coverings, distancing when in groups and increased hand-washing and hygiene practices."
Kinder's entire message and more information about the district's plan to re-open is on District 365U's website at www.vvsd.org.
At the special meeting held July 13, the Joliet Township High School Board of Education unanimously approved an agreement with the teacher's union for the 2020-2021 re-opening of school, which aligns to the 2020-2021 school year re-opening plan that was also presented.
"The re-opening plan was developed collaboratively with teachers, counselors, deans, union leaders and administrators using data from parent, student and staff surveys while adhering to Illinois Department of Public Health (IDPH) and Illinois State Board of Education (ISBE) requirements," Supt. Karla Guseman said in a letter to parent.
"JTHS has been planning for the fall re-opening since the 2019-2020 school year ended to ensure that we can provide a robust model for remote and blended instruction that is pedagogically sound."
Remote learning for the upcoming school year, she stressed, will not look like it did during the COVID-19 shut down.  Attendance will be recorded for each class period.  Teachers will deliver instruction online and will assign engaging assignments and projects to be completed by groups (online) or individually, Guseman added.  JTHS has purchased additional learning platforms and a new student management system that will allow parents to easily access grades, attendance data, assignments details, student schedules and more. "We have been working hard to ensure quality instructional delivery for all students," she said.