Nurses strike ends in Joliet
New contract approved with AMITA St. Joseph Medical Center
By Rex Robinson | 7/21/2020, 6 a.m.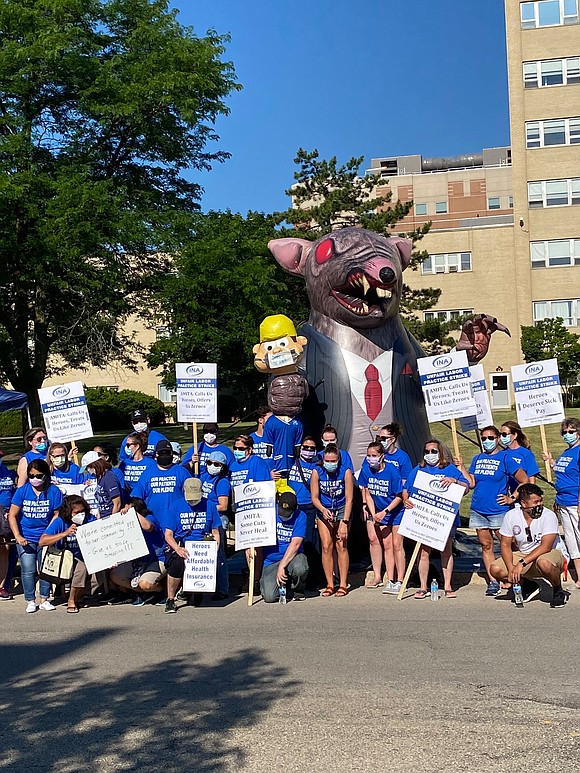 Nurses on Monday night approved a new contract with AMITA St. Joseph's Medical Center, ending a 16-day strike against the hospital in Joliet hospital.
"While a majority of nurses voted for this contract, there are still many nurses who want to see more progress on safe staffing. We will continue the fight for safe staffing through enforcement of our contract and in Springfield," said nurse Pat Meade, RN, one of the lead union negotiators.
Timothy Nelson, System Director, Communications and Media Relations for AMITA Health, released a statement late Monday night.
"We are pleased that AMITA Health Saint Joseph Medical Center Joliet and the Illinois Nurses Association (INA) have reached a contract agreement, ending the strike by represented nurses…," Nelson said.
"We feel the agreement reached is fair and just for all involved and appreciate the ratification by the represented nurses. We look forward to welcoming our nurses back to the medical center on Wednesday, July 22, for their regularly scheduled shifts," he added. "As always, the health and the safety of our community are always our top priorities, so we are eager to partner once again in the healing of our community."
Meade said the new contract does deliver on several fronts that are important to the 720 nurses at the hospital:
• Retained the Extended Illness Bank.
• Earned an agreement that AMITA work to improve the staffing guidelines on 2W, 5W and the Step-Down units before December 31st, 2020.
• AMITA is required to meet and confer with the union by December 31st, 2020 to improve staffing throughout the hospital.
• Nurses can request to have their concerns put on the Staffing and Acuity Committee Meeting Agenda and the Committee is empowered to request the CNO attend to address the urgent and serious concerns. If the issue is not resolved in the Staffing and Acuity Committee meeting, the issue may be placed on the next Labor- 2 Management meeting.
• There are caps on the health insurance premium contributions at 25% for full-time nurses and 35% for part-time nurses.
• Improvements to the Staffing and Acuity Committee, including increased meeting length, established a deadline for the development of an acuity tool, increased paid time for subcommittee work and increased rounding.
Increased wages to a 2% step wage increase in the second year and a 2% step wage increase in the third year.
INA made nurse and patient safety issues a priority and remained firm in emphasizing an improvement on staffing issues at the hospital. INA had pushed for a number of improvements in staffing, including limits on the maximum number of patients that can be assigned to a nurse at one time and making current staffing grids enforceable.

Negotiations were marked by discord and INA filed four unfair labor practice acts against the hospital and nurses ejected the hospital's first two contract offers. Nurses were also concerned about taking on more risk while working without appropriate PPE during the spike in COVID-19 cases this Spring.
INA represents more than 720 nurses who work at the hospital and both sides had been in negotiations on a new contract since early Spring. The existing contract expired on May 9th and the nurses began their unfair labor practice strike on July 4th.