Protestors in Lurry case keep the heat on at Joliet City Council
Rex Robinson | 7/22/2020, 6 a.m.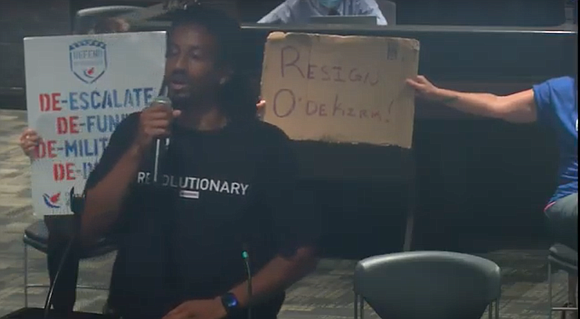 A number of protestors who lined the street in front of the Joliet Police Department over the weekend took their fight again to the City Council on Tuesday night.
More than a dozen protestors took their turn at the podium Tuesday, calling for jus-tice for Eric D. Lurry Jr. who died in late January while in Joliet Police custody after being arrested on suspected drug charges.
"Say his name!" yelled one of the protestors from the podium.
"Eric Lurry!" replied other protestors surrounding him in city hall chambers.
Some held signs that read "De-Escalate, De-Fund, De-Militarize, De-Police."
Meanwhile, another raised up a sign that read "Resign O'Dekirk," relating to Mayor Bob O'Dekirk's scuffle with two brothers on the night of May 31 following another protest along Jefferson Street. The Illinois State Police continues to investigating that case.
Earlier in Tuesday's meeting, interim City Manager Steve Jones, who has resigned and is scheduled to leave his post next month, once again called for hiring an outside firm to do an internal investigation into the Lurry case. The Will County Coroner's Office recently issued a ruling that Lurry died from injesting a lethal amount of heroin and other drugs, and the Will County State's Attorney's Office cleared the Joliet Police of any wrongdoing in the arrest.
A dash-cam video from the night Lurry was arrested then surfaced showing one of-ficer using a baton to attempt to scoop suspected drugs out of Lurry's mouth while in the back of the squad car while another officer held Lurry's nose.
The video has Lurry's family members and others in the community demanding a full investigation into the conduct of the officers.
O'Dekirk and some other city council members want Illinois Attorney General Kwame Raoul's office to handle the internal investigation. Jones said the Illinois Attorney General's Office does not do internal reviews. Councilwoman Bettye Gavin asked about the Illinois State Police. However, Jones said the Illinois State Police would not investigate the matter either.
When pressed on that further by Councilman Larry Hug, Jones said Joliet Police Chief Al Roechner sent him a message during the meeting that a captain from the Illinois State Police told him the agency would not handle the investigation.
"We need to get that in writing from the Illinois State Police," Hug said. "This is not only a high profile case, but this is an extremely human and emotional case because a fami-ly lost a member. Let's dot our i's and cross our t's."
Joliet Corporation Council Sabrina Spano said documents from any internal investigation done by any outside firm or agency would flow through the city's legal department.
Stringer Harris, one of the protestors, said the Illinois State Police does do internal investigations.
"I'm standing here today as a national community activist and I'm standing here with the family and friends of Eric Lurry. As you just heard this has been going on for far too long. We're going on seven months now," Harris said.
"If anyone on this council has looked at that tape you would see that Mr. Lurry was alive when he was slapped in the face and called a bitch." The family, Harris said, needs answers.
A number of others followed Harris at the podium, demanding answers from city officials and justice for Lurry.