Lessons designed to sprout interest in STEM
By Rex Robinson | 7/23/2020, 6 a.m.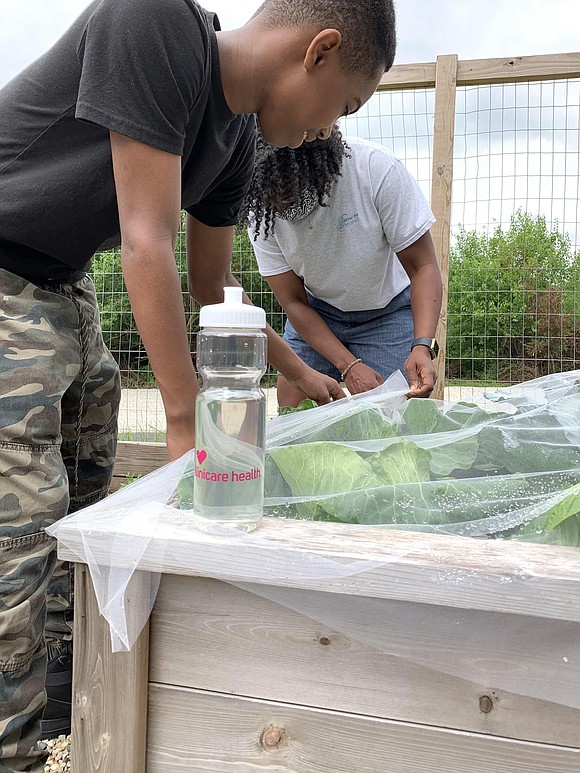 Getting students interest in science, technology, engineering and mathematics, or what is commonly referred to as STEM, can be big job.
However, that's exactly what Natalie Coleman is doing in Will County at the Fairmont Community Center in Lockport Township. The program is called "After the Peanut" which began in 2014 and was inspired by George Washington Carver. It focuses on the power of knowledge and education in the face of adversity and challenges. Over the summer students in the program learned chemistry and other STEM lessons through gardening.
"Our goal is to transform communities by increasing awareness of STEM Careers and building equity in STEM education. We have both a business side and non-profit side," Coleman said.
The program headed by Coleman is currently partnering with the Fairmont Community Partnership Group and works closely with Delinda Herod and her team.
"There are numerous urban gardens around Will County but we chose to work in the Fairmont community because of our great partnership with Fairmont School District 89 and it is also where After the Peanut STEM Center is housed," Coleman said.
There are eight students enrolled in the Urban Agriculture program this summer. The students, according to Coleman, do a variety of things at the Center throughout the year (African American STEM Day, A Day of STEM for Girls, & Spooktacular STEM Night). There also is an after school program that runs during the regular school year, she added.
The students are currently growing zucchini, squash, peppers tomatoes, cabbage and greens in a 10 by 50 foot garden at the center. "It has seven to 10 active raised beds for growing vegetables," Coleman said.
Materials for the garden were given to the organization by We Will Grow Will County. Students help harvest the crops and water them once per week.
Through in-kind donations from Illinicare Health, Coleman and others are able to make their work more impactful. "During a time like this, little things go a long way and help continue the mission of After the Peanut to provide opportunities in STEM for K-12 students and educators," Coleman said. As CEO of After the Peanut, Coleman said she has an extensive background in curriculum writing and program development and values impactful partnerships, such as the one with Illinicare Health.
Coleman and others are doing their best to keep the program going during the Coronavirus pandemic.
"We are keeping our numbers small (10 or less students). We're using PPE and taking temperatures and oxygen levels at the start of each session," Coleman said. "There was also a questionnaire for parents at the onset of the program and we spend the majority of our time outside."
For students in and out of the area, the harvested crops are donated to the food pantry that is located at the Fairmont Community Center and given out every Thursday. Students are learning how vegetables and flowers grow, the importance of chemistry in the soil, how to take care of a garden, landscape and indoor plants as well as entrepreneurship opportunities in urban gardening.
"Overall they will also have the opportunity to gain skills in collaborating, communicating, and critically thinking," Coleman said.
Coleman is confident the program has plenty of potential for growth in region. The goal, she said, is to expand the program and to make it year round by creating indoor growing spaces utilizing innovative technology called grow walls. The plan is to partner with more local organizations in the Will County area to transition their outdoor gardens into an indoor garden by establishing space within their locations dedicated to year-round growth.
"The ultimate goal is to renovate a space to create an Urban Agriculture Center by summer 2021," Coleman said. "This space will provide educational opportunities, opportunities for community members to purchase locally grown quality vegetables and fruits and a workforce development program." As the students transition to online learning/programming Coleman and others involved with the program we are looking to do a number of things this school year. In-person goals are to continue the garden club through October and provide after school programming in line with COVID-19 guidelines. There also is an online component designed to provide online tutoring/homework and ACT/SAT prep, create interactive STEM Clubs and an Interactive Entrepreneur Club, according to Coleman.
More information about the program is available at www.afterthepeanut.com.