Happening's at the Forest Preserve
7/28/2020, 11:40 p.m.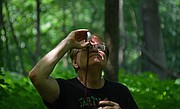 Ultimate tree-hugger hunts for champion trees at Messenger Woods in Homer Glen
Dave Shepard is on a mission to nominate Will County trees to the Illinois Big Tree Register. The environmental science teacher trekked to The Forest Preserve District of Will County's Messenger Woods Nature Preserve in Homer Glen on July 7 to record the size of four trees: jack pine, red pine, black maple and red oak.
Jay Hayek, forestry specialist for the University of Illinois Extension and coordinator of the Big Tree program in Illinois, said he would love to have more volunteers searching for Big Tree candidates throughout Illinois. Hayek said finding these "giants" is a way to document and recognize our natural history, and it also gets more people outside and away from the Internet and TV. For more details on the register and Shepard's quest, visit www.bit.ly/bigtreehunter.
Larger Lakeside Shelter opens at Whalon Lake in Naperville
The Forest Preserve District of Will County's Whalon Lake preserve now has a larger picnic shelter with a gorgeous water view. Lakeside Shelter is nestled on the edge of the preserve's 80-acre lake, a perfect location for outdoor family reunions, wedding parties, birthday celebrations, retirement parties and general get-togethers.
The shelter's construction was completed earlier this month and it replaces a smaller shelter that was created at the site when Whalon Lake opened. The shelter can accommodate up to 150 people, but because of the COVID-19 pandemic, outdoor rentals are being limited to 50 or less at this time. Even with the capacity restrictions, members of the public have been eagerly anticipating this new outdoor picnicking opportunity. For additional details, visit www.bit.ly/whalonshelter.
Forest Preserve's 'Don't Be A Jerk' marketing campaign wins national award
The Forest Preserve District of Will County's "Don't Be A Jerk" campaign has won a first-place award from the National Association of County Park and Recreation Officials. The award was given for "outstanding achievement" in the marketing category. The campaign featured four videos on: reining in your dog, how to use a garbage can, how to use a trail, and how to dispose of fishing line and hooks etc. so wildlife aren't harmed.
The 2019 campaign also used catchy messages to educate and encourage positive behavior for the benefit of all who spend time in the preserves. Eye-catching signs, which were placed in the preserves and remain there today, feature pictures of cute animals with these messages: don't be a litter bug; don't be a trail hog; don't be a butthead, discarded cigarettes butts kill wildlife; don't be a wiener, keep your dog on a leash and pick up its poop; and don't be trashy, fishing line kills wildlife. For more information visitwww.bit.ly/jerkcampaign.