Joliet artist inspires call to action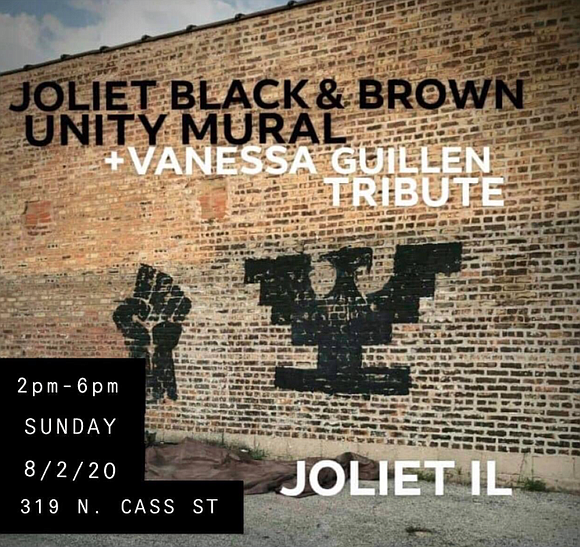 Most often change comes about slowly. It takes effort - sweat equity as they say.
"God will move mountains, but I better bring a shovel," is another quote that comes to mind.
Think back to the '60s and the civil rights movement. Dr. Martin Luther King Jr. didn't just give one speech and everything miraculously changed over night. It takes time and work.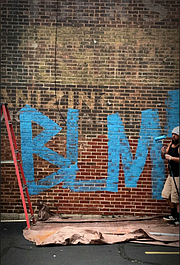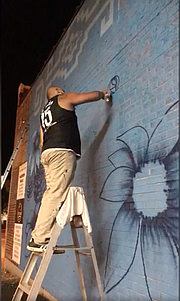 The recent passing of Congressman John Lewis, one who stood with King when he made his "I have a Dream" speech in Washington and who was the youngest black American to speak to the crowd from the podium that day in late August of 1963, is another stark reminder of how change comes slowly and takes work.
Lewis spent most of his adult life fighting racial injustice, always protesting in a non-violent manner as guided by King. Even when police turned to violence as was so evident in 1965 when Lewis and other activists marched from Selma to Montgomery in twos across that bridge. They were met on the other side by police in riot gear and were beaten. Lewis suffered a skull fracture that day.
Lewis was jailed a number of times for standing up for the rights of others. He knew it would take work if change were to happen.
The "work" of change comes in many different forms and the '60s were a time when much work was happening and those many different forms of labor for change were happening simultaneously.
Similarly, our country is going through another painful time of change where many things are happening simultaneously. It's as if the sleeping lion has once again risen from his slumber.
While protesting, making speeches and certainly voting and lobbying elected officials are essential tools to effecting any kind of change, so too are the arts. Music, writing and art in its myriad forms also helps to bring about change.
Someone might hear a song or see a painting and be inspired to change or join a movement for change.
Local artist Sonryze Silva is using his talents to do just that. He has been working day and night recently on his Joliet Unity Mural on the storefront wall of Kazador Boots on Joliet's east side at 319 E. Cass Street. His mural is expected to be unveiled to the public at 2 p.m. this Sunday.
Silva is hopeful many come out to see his work. He has been posting photos and videos of his mural at different stages in the process on his Joliet Unity Mural Facebook page.
Here is some of what was posted on Silva's page about his work and the upcoming unveiling ceremony.
"For too long our people and neighborhoods have been stigmatized as violent and dangerous, despite a shared and often forgotten past as comrades / allies in the struggle for equality and better life in this country. There is definitely much work to do, yet not often enough do we allow ourselves the space to celebrate our rich histories and spirit of struggle, community, prosperity, and resistance in the face of adversity.. a deep history that spans beyond just colonization and slavery in this country. A history ancient as humanity itself. with stories of healers, nation builders, wisdom seekers, warriors, soothsayers, innovators, etc.
"During these times of growing tensions between both imagined and perpetuated division lines amongst people, law enforcement, the politics of a global pandemic, etc. there are no days off in the struggle for freedom and justice. Let's take a day to rejoice in our struggles and celebrate as neighbors, brothers/sisters/family, with two new murals by local artist @Ilario Sonryze Silva being unveiled, highlighting the best within us, a vision of hope for a better future through Unity, Solidarity, as well as a special tribute to US Army veteran Vanessa Guillen, RIP.
Please join us Sunday August 2nd in the parking lot @ Kazador Boots in Joliet IL for the mural unveiling/dedication. Family friendly so bring the kids. Please wear your masks and respect social distancing regulations. Some entertainment and food/refreshments will be available.
Remember..
Black Lives Matter
No Human Is Illegal
All Power to the People.
Thank You…"