Basta becomes Bolingbrook's acting mayor
By Rex Robinson | 7/31/2020, 6 a.m.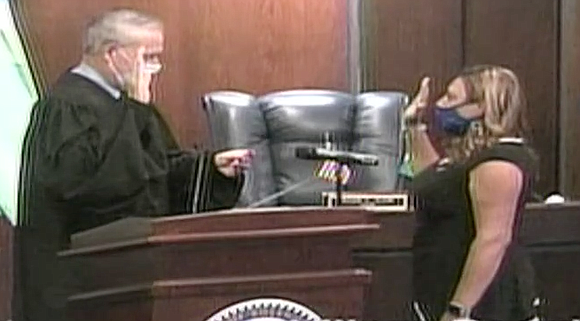 The gavel has been passed in Bolingbrook, and the village now has a new acting mayor.
Village Trustee Mary Alexander-Basta became Bolingbrook's new acting mayor by a unanimous vote of the village board during a special meeting held Thursday.
'I'm honored to be completing the unexpired term of Mayor Roger C. Claar and humbled to be chosen by the residents of Bolingbrook.'
- Bolingbrook's new Acting Mayor Mary Alexander-Basta
Mayor Roger Claar who served as the village's leader for the past 33-plus years will retire his position on Friday. He presided over his last full meeting on Tuesday.
Basta will serve full-time as Bolingbrook's acting mayor, but at $35,000 annually, the part-time salary set by the board on Tuesday. Basta will serve as acting mayor until the April 2021 election.
After being sworn in by the Chief Judge of Will County Richard C. Schoenstedt, Basta expressed gratitude to her fellow trustees for appointing her to the position.
"I'm honored to be completing the unexpired term of Mayor Roger C. Claar and humbled to be chosen by the residents of Bolingbrook," Basta said.
She then asked Claar and his wife, Pat, to join her at the podium and proceeded to read a letter to Claar thanking him for his more than 33 years of leadership and dedication to the village.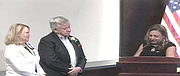 "You have served a lifetime," she said. "You had a vision of growth and development and you did what was needed to grow this village into what we now call home.
"The path was not easy and the road was certainly not paved, but you were able to plow through and make things happen."
Basta was elected village trustee just last year and serves on both the Public Safety and Public Services Committees. She was named Bolingbrook Female Citizen of the Year in 2018. She is an event design and coordination consultant with 20-plus years' experience doing major corporate event planning and hotel/club management. She studied hospitality management at Tennessee State University.
Basta is experienced in Village Planning and Development; served as Chair of the Bolingbrook Plan Commission, is an active leader in the school district community and currently serving as the John F. Kennedy PTA President. She is an executive board member of the Bolingbrook Soccer League, founding Vice President of Bolingbrook STEM (Science, Technology, Engineering, & Math) Association for youth. She and her husband Emad Basta, celebrated their 20th wedding anniversary on Thursday. The couple has two children - Peter and Benjamin. Basta also is an active member of the Saint Mark of Burr Ridge Church Community.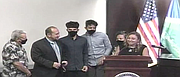 She studied Mass Communications at the American University in Cairo, Egypt. Her background includes Social and Corporate Event Planning, Hotel and Club Management at locations such as the Palmer House Hilton, Four Seasons, and the Chicago Yacht Club where she became the first female General Manager in the Club's 125-year history.
Bolingbrook Village Trustee Maria Zarate said Basta is a "go-getter. She sees something and goes for it," Zarate said.
Trustee Sheldon Watts said the board will work together going forward. "We will continue to make Bolingbrook a great place to live, work play, shop and raise a family like I'm doing here" he said.
Will County Board member Jacqueline Traynere (D-Bolingbrook) on July 4 announced plans to run for mayor of the village in April 2021 election.
Basta has yet to declare her candidacy to continue on as mayor after finishing out Claar's term.
"I will carry out the role of full time mayor, but will be accepting the part-time salary that was approved at Tuesday's board meeting. As we look towards the future and the April election, I will always do what's in the best interest of Bolingbrook and will evaluate any future candidacy for this office, Basta said.