Two online petitions out there to let the people judge Joliet mayor's actions
By Rex Robinson | 6/4/2020, 9:08 p.m. | Updated on 6/4/2020, 9:08 p.m.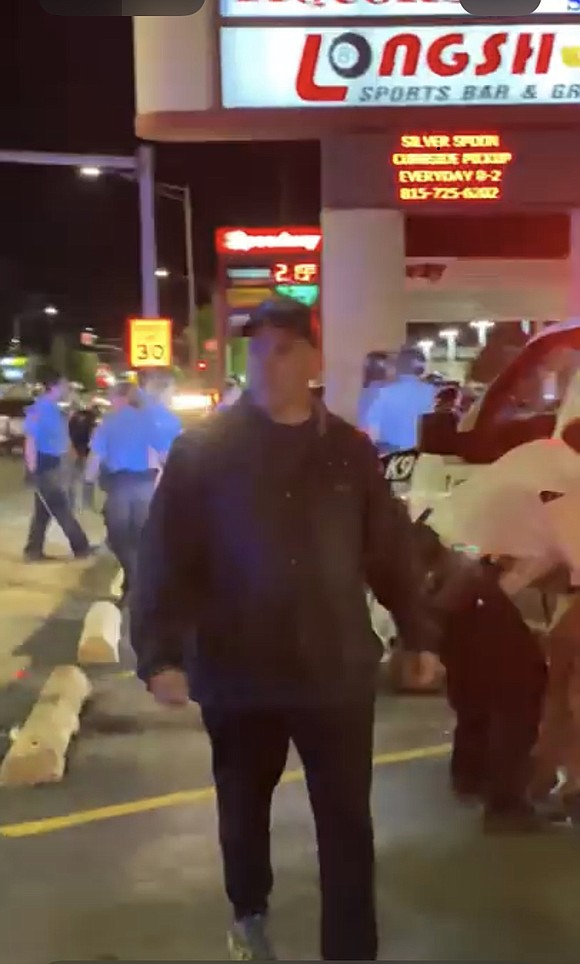 One petition seeks support for Joliet Mayor Bob O'Dekirk and the other seeks his resignation. Both are online at change.org.
Both are related to an altercation O'Dekirk had with a protestor on Jefferson Street Sunday night.

According to the online petition posted by "Concerned Joliet Resident," the current goal is to reach 7,400 signatures The online petition also includes the video of O'Dekirk subduing a protestor who, the mayor said, had "attacked" him.
The other petition titled "Joliet Support our Mayor Bob O'Dekirk" has a current goal of 2,500 signatures and was started by Sandy Gerrettie.
The young man who was taken down physically by O'Dekirk has said he was simply trying to walk to his car when he was told he couldn't go that way. The man also said he did not know it was the mayor who was trying to stop him because he was dressed in street clothes and had nothing identifying himself as a city official.
A former Joliet Police Officer, O'Dekirk said he was on the scene to show leadership and assist police.
The following statement is part of the online petition seeking O'Dekirk's resignation:
"This petition is for the resignation of Joliet Mayor Bob O'Dekirk. In the midst of the social unrest being experienced in America everywhere, the Mayor has failed to be a leader to his people of Joliet, IL.

As an elected official, his duty was to hear the voices of his city and work to create a solution in his city. Instead what the people of Joliet received was a blatant disregard for their pain and again, their cries have fallen on deaf ears as well as met with violence and assault.

Sunday, May 31st Mayor O'Dekirk assaulted and slammed to the ground, protestor Victor Williams. (Caught on film) Victor as seen in the video had his hands up to show he was not fighting back. This did not stop or halt O'Dekirk's hostility in the slightest. Victor is in the hospital and his brother was harmed when stepping in. This occurred after a performative kneeling with the protestors to show his solidarity shows how outright laughable it is to think he's supportive of the people he has sworn to serve and protect.

When O'Dekirk addressed the video released he stood his ground and REFUSED to apologize for his grotesque behavior. He told reporters "his police instincts kicked in" further proving the need to reform the policing policies nationwide. Mayor O'Dekirk is unfit for his role in Joliet. I urge you to spread this petition like wildfire and email him yourselves at: rodekirk@joliet.gov. Let's be on the right side of history, Black lives matter."
Here's a link to the online petition with the video: 
https://www.change.org/p/resignation-of-joliet-mayor-bob-o-dekirk
Here's a link to the online petition in support of the mayor:
This statement is part of the online petition in support of the mayor:
We, the citizens of Joliet Illinois stand beside our Mayor, Bob O'Dekirk.  On 5-31-2020, our great city was under siege by looters, rioters and arsonists who were attempting to interfere with peaceful protesters and our first responders that were working to protect our city from being destroyed.

It is the Mayor and City Officials responsibility to do whatever they can in times of crisis and disruption.  We are in a state of emergency and crisis as we continue to be under a curfew due to the lawlessness and behavior of these people.

Mayor O'Dekirk has been falsely accused of wrong doing.  When in fact, our good Mayor was physically attacked by a rioter and as the Mayor tried to diffuse the situation, a second rioter jumped on him, knocking him to the ground, punching him in the face and smashing the Mayors face into the pavement.

Bob was the first and only Mayor to create diversity and community relations in our City Council to support the minority community.

Our Mayor has always respected and worked with minorities and he expanded the number of minority members on the Police & Fire Commission.

Bob is a highly decorated police officer, nominated 4 times for Officer of the Year and in 1995 was the recipient of the Martin S. Murrin Labor Award. Bob was an elected officer on our local Fraternal Order of Police Executive Board.

We are appalled that a handful of people are unjustly calling for our Mayor to resign due to their own political ambitions.

PLEASE SIGN OUR PETITION IN SUPPORT OF MAYOR O'DEKIRK...THANK YOU