Prayers, peaceful protests in Will County over the weekend
By Rex Robinson | 6/7/2020, 9:50 p.m.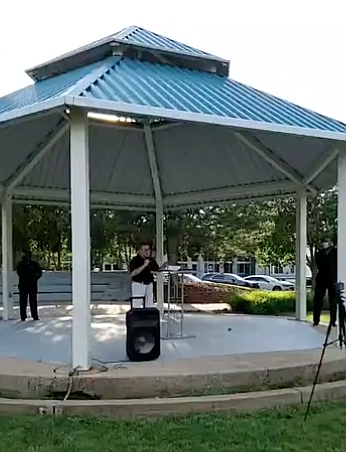 While an investigation of police actions and the actions of Joliet Mayor Bob O'Dekirk on May 31st and his handling of a protestor on Jefferson Street continue, a calmness came over the region over the weekend.
This was the case across the country as well where peaceful protests played out in major city's everywhere. The killing of George Floyd as a result of Minneapolis police officer Derek Chauvin kneeling on his neck for nearly nine minutes was the tipping point that has reignited the Black Lives Matter movement to a level probably never before seen since it began.
Protests are continuing to play out and many protestors throughout Will County continue to voice their support for the Black Lives Matter movement.
On Friday night, a Unity Vigil was held in Romeoville. It was evening of prayer with area pastors and others. They included Joseph Johnson, Apostle Chris Hudson John Connor, State Rep.Natalie Manley D-Joliet, Joel Brown, Romeoville Mayor John Noak and others.
"We came here tonight to find a solution, Wall Breakers International Church Apostle Chris Hudson told the crowd gathered at the vigil. "What we have to realize is that we are stronger together.
"We're coming to change the narrative," he added. "We are not going to go along with the status quo."
Hudson said all lives matter, but questioned whether all lives are treated equally."This is a call for unity tonight," Hudson added.
Hudson praised Noak for helping put the vigil together. The mayor broke down in tears as he spoke to the crowd.
"My heart is absolutely broken," Noak said. "For the family of George Floyd and for all the people and their families of color who have lost their lives - it's just wrong. None of it's OK. I'm here to say I don't have the answers. I'm here to listen and I want to continue to listen. I don't want to be part of an event. I want to be part of a dialog."
The entire video of Friday's prayer vigil in Romeoville can be found on The Times Weekly's Facebook page.
On Saturday, hundreds gathered along Weber and Airport roads for a peaceful protest. Protestors held signs and many drove past honking car horns in support.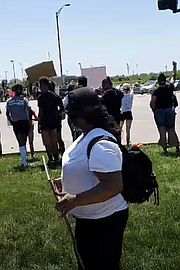 Many in the community have seen or heard of two videos released by members of the public that involve a confrontation between the Mayor of Joliet, members of the Joliet Police Department and several individuals during the evening of May 31.
According to a statement on Joliet's website, the investigation involving the Joliet police and O'Dekirk has been referred to the Illinois State Police for an "independent and transparent review. The City of Joliet and Joliet Police Department supports and will cooperate with this review. In order to fully evaluate the separate actions of Police Department personnel in responding to the incident, the City will be retaining an outside firm to conduct an internal investigation of the matter. The outside assessment is intended to provide an independent and objective review to determine what occurred and to determine if Joliet police Department policies and procedures were followed by our personnel. 
 "Over the past week the nation has been focused upon the unfortunate and unjust actions of several law enforcement personnel in Minnesota.  While we believe our organizational culture would not allow this to happen in Joliet, we have a responsibility to the community to assess the May 31 incident and ensure our response was in keeping with established norms."
A video shot with someone's phone shows O'Dekirk grabbing 23-year-old Victor Williams Jr. of Lockport by the collar and pushing him back toward a police car on May 31. Jamal Smith, the 28-year-old brother of Williams apparently then jumped on the mayor from behind while police officers surrounded the mayor and the two brothers and all appeared to end up on the ground.