Attorneys for two brothers outline their case against Joliet Mayor Bob O'Dekirk
6/8/2020, 10:13 p.m.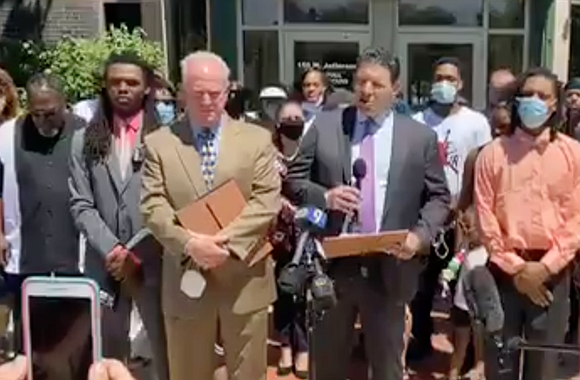 Attorneys representing two brothers involved in a scuffle with Joliet Mayor Bob O'Dekirk following a protest along Jefferson Street on May 31st are refuting any claims made by the mayor that his actions were in any way justified.
Surrounded by local pastors and supporters along with their two clients, Victor Williams Jr. of Lockport and Jamal Smith of Crest Hill, Chicago attorneys Lawrence X. O'Reilly and Michael E. Baker held a press conference Monday in front of the Joliet City Hall and outlined the status of their case against the mayor.
At one point, O'Reilly turned and introduced the two brothers. "They are the victims in this matter, not Robert O'Dekirk," he said.
There were two protests in Joliet earlier that Sunday in response to the death of George Floyd who died after Minneapolis Police Officer Derek Chauvin kneeled on his neck for nearly nine minutes. O'Dekirk was with police at the protest along Jefferson Street and in one of the videos shot with someone's phone the mayor is seen wearing a cap, jacket and tennis shoes. O'Dekirk said he was out there to assist police to show leadership and because he is a former Joliet police officer.
Victor Williams, 23, attempted to walk by and the mayor could be heard yelling "hey" and then grabbed him by the collar and walked him toward a police car and then Willams' brother Smith, 28, tried to stop the mayor and a number of police officers then got involved and Williams was taken to the ground. This is what is seen on the video.
The two brothers were charged with assault and mob action. Both were treated for bruises and scrapes at an area hospital the next day and released. While the two brothers were arrested after the incident, the charges against them have yet to be filed by the Will County State's Attorney's Office, according to O'Reilly.
O'Dekirk has said that he was attacked by Williams during a "riot" and, according to O'Reilly, the mayor also claimed Williams spit on him. Both O'Reilly and Baker said their clients were simply on their way home, and neither knew the man confronting them was the mayor.
O'Reilly also denied his client ever spit on the mayor. "My client was wearing a mask. There's no way he could have spit on him" he said. "My client made no attempt to put his hands on the mayor. It was in fact the mayor who instigated the contact and caused the situation himself."
This is an excerpt from the statement O'Dekirk released after the scuffle.
On Sunday night, after the peaceful protesters had made their views known and gone home, the looters, vandals and arsonists came out in force to disgrace themselves, their families and our community.

As a former Joliet Police officer and as the Mayor of Joliet sworn to uphold the laws our state and city, I was on the front lines with our police officers urging anyone disturbing the peace or engaging in criminal activity to go home. The general response was a cascade of verbal abuse followed by rock, bottles, bricks, fireworks and punches being thrown at police officers attempting to protect the peaceful citizens of Joliet.

I was confronted by a rioter, then attacked. Using standard police tactics to immobilize the attacker by separating him from the crowd and walking him backwards toward police officers, I was jumped from behind by a second attacker. They were arrested - unharmed - and are subject to a bond hearing and criminal trial. Unlike many Joliet first responders protecting Joliet that night, I was lucky enough to walk away with just a few bruises.