O'Dekirk has 'no intentions' of resigning as Joliet mayor
6/9/2020, 2:47 p.m.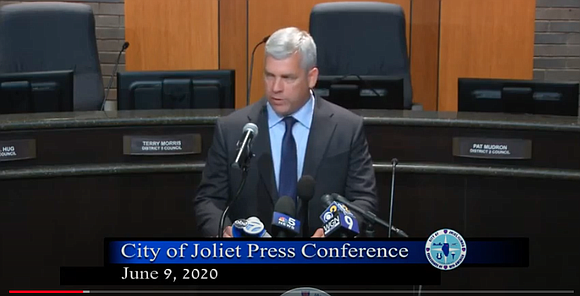 Joliet Mayor Bob O'Dekirk on Tuesday defended his actions following a protest along Jefferson Street on May 31 and said he sought to hurt no one and was defending himself from an attack after a night that turned from peaceful protests to violence.
During a press conference at City Hall, O'Dekirk said he has no intentions of resigning his position because of the incident. Some supporters of the mayor also spoke at the press conference.
Three Joliet pastors have called for O'Dekirk to resign for taking down Victor Williams, 23, of Lockport, during a scuffle that night.Williams and his brother, Jamal Smith, 28, of Crest Hill, were charged with aggravated assault and mob action following the scuffle.
O'Dekirk described two very different scenes on May 31. "The streets were filled with protestors with good intentions during the day," he said. "As night fell, these protests turned into chaos and left the streets of Joliet filled with individuals determined to destroy all the progress made that day with disruption, destruction, theft, violence and even arson."
O'Dekirk said just before the scuffle with the individual a police officer standing next to the mayor was struck in the head with a rock.
He stressed that he was "proud of the protestors and the peaceful demonstrations" earlier in the day and the conversations he had with those protestors about the Black Lives Matter movement. "Our City understands that there has to be a willingness to work together to improve many aspects of American life so that everybody feels they are being treated equally and fairly," he said.
"To be clear, moving forward, I am personally willing to work with anyone who wants to bring positive change and social justice to Joliet," O'Dekirk added. "I think my record as mayor proves that and many of the community leaders here today will confirm that fact. I have worked hard for five years to bring people in our community together and have made myself available and accountable in every way possible."
Mady Perez, a community activist, was one of the supporters who defended the mayor and said she while on Jefferson Street that night she saw a crowd of people, who were "very angry" and "very aggressive" and alsso saw the mayor being assaulted. "What I saw Sunday night was horrific," Perez said, adding that she feels the mayor is "not getting a fair shake."
The attorneys representing the two brothers told a completely different story and said of video of the incident shot with someone's phone proves the mayor was the aggressor and not the two brothers.
Lawrence X. O'Reilly and Michael E. Baker, attorneys for Victor Williams Jr., 23 of Lockport, and Jamal Smith, 28, of Crest Hill, held a press conference outside city hall on Monday. At one point, O'Reilly turned and introduced the two brothers. "They are the victims in this matter, not Robert O'Dekirk," he said. (See separate story on The Times Weekly's website)
There were two protests in Joliet earlier that Sunday in response to the death of George Floyd who died after Minneapolis Police Officer Derek Chauvin kneeled on his neck for nearly nine minutes. O'Dekirk was with police at the protest along Jefferson Street and in the video the mayor is seen wearing a cap, jacket and tennis shoes. O'Dekirk said he was out there to assist the police and help protect the city from looters and rioting.