Shopping at Joliet ReStore supports Habitat's mission
6/9/2020, 11:06 p.m.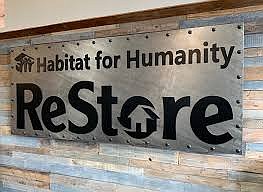 thetimesweekly.com
Out of this COVID-19 pandemic, the Joliet ReStore on-line store emerges.
Improve your home while you build Habitat for Humanity's homes here in Will County. Check out the new on-line Joliet ReStore. www.jolietrestoreonline.com. Right now, many of us are working from home and reminded that our homes are our safe place. The pandemic has greatly impacted our efforts to provide affordable housing and critical home repairs for people in need in Will County.
Over the past few months, many of us have been watching home improvement shows; being inspired to purge and redecorate. Many of us have been turning our rooms into offices. We are taking on the projects that we have been putting off. If you are looking for a place to find home, decorating, and building materials at a great price, log on to www.jolietrestoreonline.com.
The Joliet ReStore is Will County Habitat for Humanity's nonprofit home improvement store and donation center that sells new and gently used furniture, home accessories, flooring, lighting, building materials and more. With the support of generous donors such as Wayfair, LaZboy, Magid Glove and more, our store has more of an outlet feel than a thrift store. Pay a fraction of the retail price and help Habitat continue to provide the dream of homeownership.
Will County Habitat for Humanity is working to eliminate poverty housing, to provide a pathway to homeownership for low-income and vulnerable people, and to ensure that every family has a safe, decent, and affordable place to call home. Our vision is a world where everyone has a decent place to live. Habitat for Humanity brings the community together to develop communities for people in need by building and renovating houses, while creating homeownership opportunities based on a hand up; not a hand out.