Investigation underway into South Suburban Black Chamber
Updated June 15, 2020
By Rex Robinson and Barrington M. Salmon | 6/15/2020, 1:55 p.m.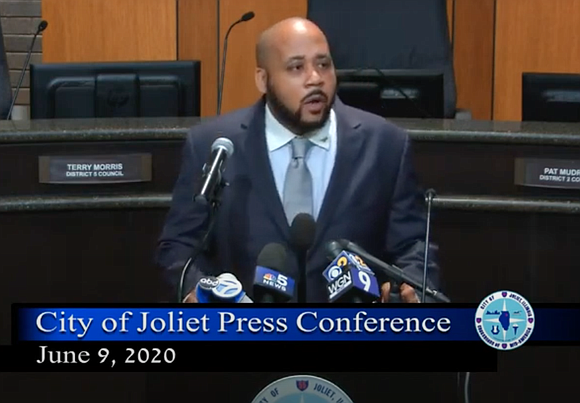 Joliet Mayor Bob O'Dekirk held a press conference at City Hall on June 9 to defend his actions following a protest on May 31 and the scuffle he got into with two brothers on Jefferson Street. A number of O'Dekirk's supporters also came to the podium to defend the mayor during that press conference.
One of those supporters was Cornel Darden, who introduced himself as the President and CEO of the South Suburban Black Chamber of Commerce.
"I support the mayor wholeheartedly," Darden said. "We have a great mayor here in our city and I'm very proud to have worked with our mayor to get a lot of things done as far as the black business community is concerned."
On Friday, three Joliet faith leaders - Bishop Steven Evans, Pastor Warren Dorris and Pastor Herbert Brooks - held a press conference and showed a video from 20-plus years ago of O'Dekirk when he was a police officer and in it O'Dekirk, according to a press release, is seen "aggressively assaulting a handcuffed black man and then "tackling a Hispanic man from behind."
Included in the pastors' announcement prior to the press conference is a statement about Darden. It reads as follows: "…during the Mayor's Tuesday press conference, he called on character witnesses, including Cornel Darden, who has made continued claims of being the president of the South Suburban Region Black Chamber of Commerce. That claim has been denounced by the Illinois Black Chamber of Commerce. The state chamber issued a statement accusing Darden of 'fraudulently accessing funds' and accusing O'Dekirk of covering up the investigation."
The Illinois State Black Chamber of Commerce posted the following statement about Darden on social media last week: "Cornel Darden was terminated from the South Suburban Region Black Chamber of Commerce. Cornel Darden continued to falsely operate a Chamber using the South Suburban name and EIN number. He has fraudulently accessed funds from our existing bank account and opened unauthorized bank accounts. In addition he has collected sponsorships and membership dues without the consent of the Board of Directors after his termination. In addition to these fraudulent acts, Cornel Darden went on to illegally appoint his own board of directors to fraudulently operate a non profit that he was terminated from.
"The South Suburban Region Black Chamber of Commerce immediately filed a police report with the city of Joliet, however we feel that because of Darden's strong ties to Mayor O'Dekirk, our claims were never investigated. No official board member of the South Suburban Region Black Chamber of Commerce or Illinois State Black Chamber of Commerce was interviewed after the initial complaint was filed.
"Cornel Darden is not affiliated with the Illinois State Black Chamber of Commerce or the National Black Chamber of Commerce. We are not in support of Cornel Darden and we do not support any of his actions. The Illinois State Black Chamber of Commerce does not support the actions of Mayor O'Dekirk that transpired during a peaceful protest we feel that the violent actions of O'Dekirk are unbefitting of a Mayor."