Joliet Dist. 86 principal receives USF award
6/23/2020, 9:57 p.m.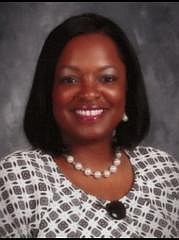 Carl Sandburg Elementary School Principal Dr. Saundra Russell-Smith received the 2020 William Orenic Outstanding Contribution Award from the University of St. Francis College of Education. The annual recognition is awarded to an individual who has made outstanding contributions in support of the Conceptual Framework of the University's College of Education: Understanding Students, Serving the Community, and Finding Professional Selves.
Dr. Russell-Smith was nominated for the award because of her student-centered approach to teaching and learning at Carl Sandburg Elementary, dedication to the Joliet community, and exemplary professionalism. In addition, she serves as a University of St. Francis Multicultural Education Recruitment in Teaching (MERIT) Ambassador. The MERIT program is a partnership between the University of St. Francis, Joliet Public Schools District 86, Joliet Township High School District 204, and Joliet Junior College to help recruit, prepare, place and induct excellent teachers of color for Joliet area schools.