Vote By Mail available to every voter in Will County and beyond
By Rex Robinson | 6/29/2020, 8:18 p.m.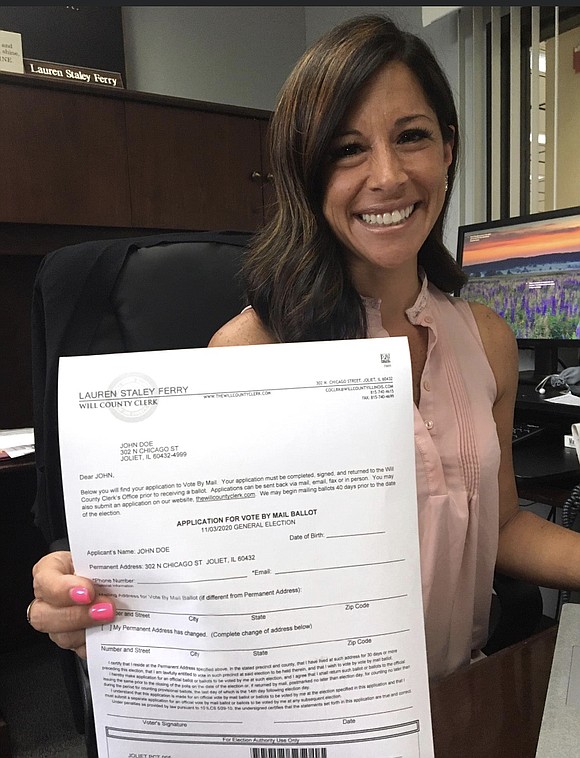 There has been much misinformation circulated mainly via social media about voting by mail, even though it has been going on for many years.
It is something that has benefited many citizens of this country, especially those who were unable to vote here because they were in a foreign land fighting for the freedom of all Americans.
The conspiracy theory floating around social media these days that somehow voting by mail will result in mass voter fraud is unfounded and has been debunked.
As the Coronavirus continues to spread throughout the country, it is essential for those with poor immune systems who might be more at risk for contracting the virus have every opportunity to exercise their right to vote.
Will County Clerk Lauren Staley Ferry has announced that her office will begin sending Vote By Mail applications to every registered voter in the next two weeks.
The applications will arrive at homes in clearly marked envelopes that also contain personalized Voter Registration Cards. Registered voters simply need to sign their pre-filled applications and send them back to the Will County Clerk's Office to receive a Vote By Mail Ballot for the Nov. 3 Presidential Election.
Follow this link for more information about voting by mail in Will County: https://www.thewillcountyclerk.com/county-clerk/press-releases/will-county-clerk-lauren-staley-ferry-to-send-vote-by-mail-application-to-every-registered-voter-in-will-county/