Joliet West student starts his own clothing business
3/11/2020, 3:48 p.m.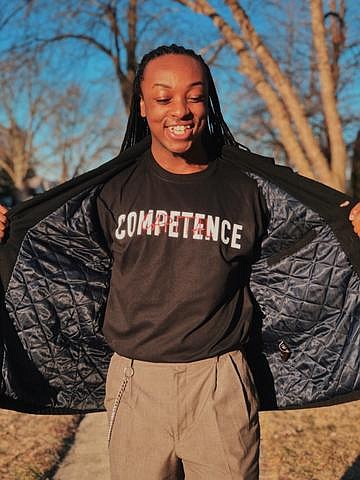 Joliet West High School senior Aaron Travis has started his own business, "Competence Capital," a clothing company with an empowering message for youth. The idea for the company was spurred through concepts taught within the Exploring Entrepreneurship course instructed by Mr. Neil Luchetti at Joliet West. Travis said, "'Competence Capital' is an online clothing store that mainly focuses on spreading the message of 'No matter what your current situation is, keeping a positive mindset and believing in yourself will lead to competence in the youth. I strongly believe that youth is the future. Everyone needs someone to look up to, and I want to be that person."
Students like Travis, with interests to own or operate their own business, can develop their business ideas through the Exploring Entrepreneurship course. In this course, students are introduced to entrepreneurship, they identify characteristics of the entrepreneur, and evaluate business and product opportunities. They also engage in customer discovery, design thinking, feasibility, financing, and planning for success. Travis said, "Exploring Entrepreneurship is a very beneficial class. It has helped me develop my business because Mr. Lucchetti provided me with every base tool needed to build my own successful business. The class has pushed me to start my own business and inspire others to want the same for themselves."
Are you interested in supporting Travis' business and dream? Travis said, "People can support my brand by simply purchasing clothes, helping me spread my message to people all over, and wearing my products confidently. I'd love to see people using 'Competence Capital' as motivation to pursue whatever they're passionate about." Competence Capital merchandise is available online at www.competence-capital.com